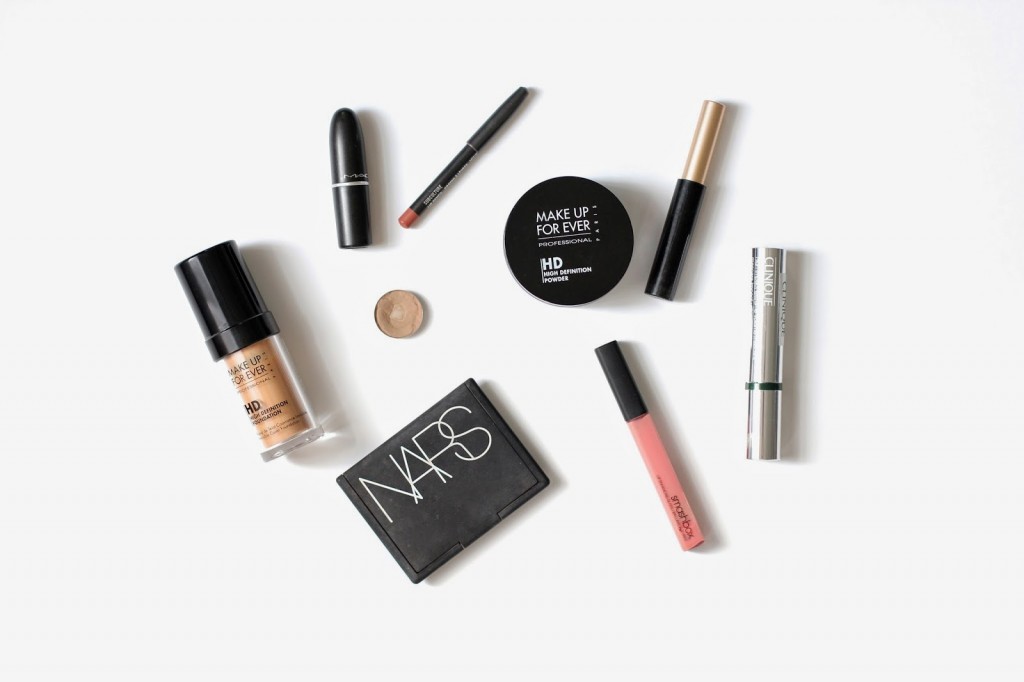 Unfortunately, I am too lazy to put on makeup everyday 🙁
But when I do, it's all or nothing on my face.
These are my current makeup essentials and what I use most in the pictures you see here and on my
instagram
!
Even though I love makeup and where a lot of it, I still like to keep things simple for me. ex: that tiny MAC eyeshadow in the picture above..I use to fill in my brows AND contouring my eyes and face! I'm not a makeup brush junkie either so you may catch me using a
MAC 217
to contour my cheeks or conceal under my eyes to save money and space in my purse! ..shhhh! don't tell anyone 😉
Here's a quick review on each item incase you were wanting to run to the makeup counter!!
MUFE HD Foundation – you'll look even better in pictures! No liquid foundation smell either :/ A
NARS Duo in Laguna/Orgasm – it's pricey. their powders/containers break easily. but dupes just can't compare B-
MAC Myth Lipstick – the perfect nude for my naturally pigmented lips! CAUTION- can be too pasty to some A
MAC subculture – the best nude/natural lip liner ever! A+
MAC Omega Eyeshadow – A+ (need I say more?)
MUFE HD Powder – the best powder I've ever tried! Absorbs oils and keeps them at bay! A+
L'oreal Liquid Liner – Still prefer gel, but this little guy never leaves a mess! B+
Clinique Volumous Mascara – a gift from CFW.. it whooped my sweet cover girl lash blast ass! B
Smashbox Lip Enhancing Gloss in Pop – the holy grail of lip glosses. This baby stays put for hours, isn't sticky and the color Pop is PERFECT! A++