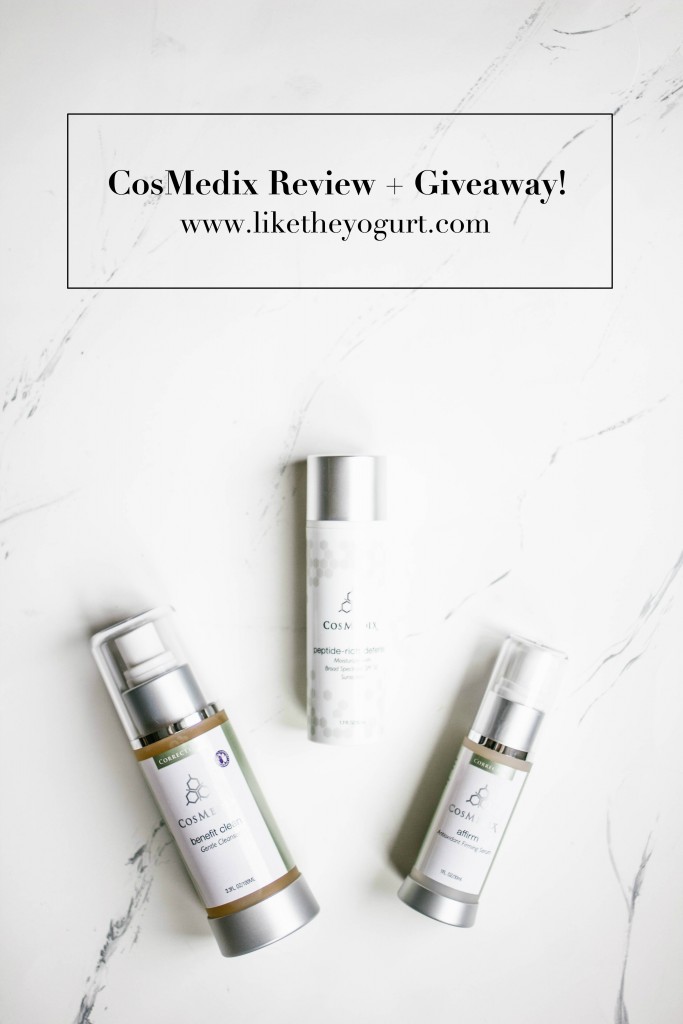 I received my new skin care regimen kit about 3 weeks ago and man has my skin noticed a difference! Of course I failed to take a before picture, but I can tell you that my skin has changed remarkably!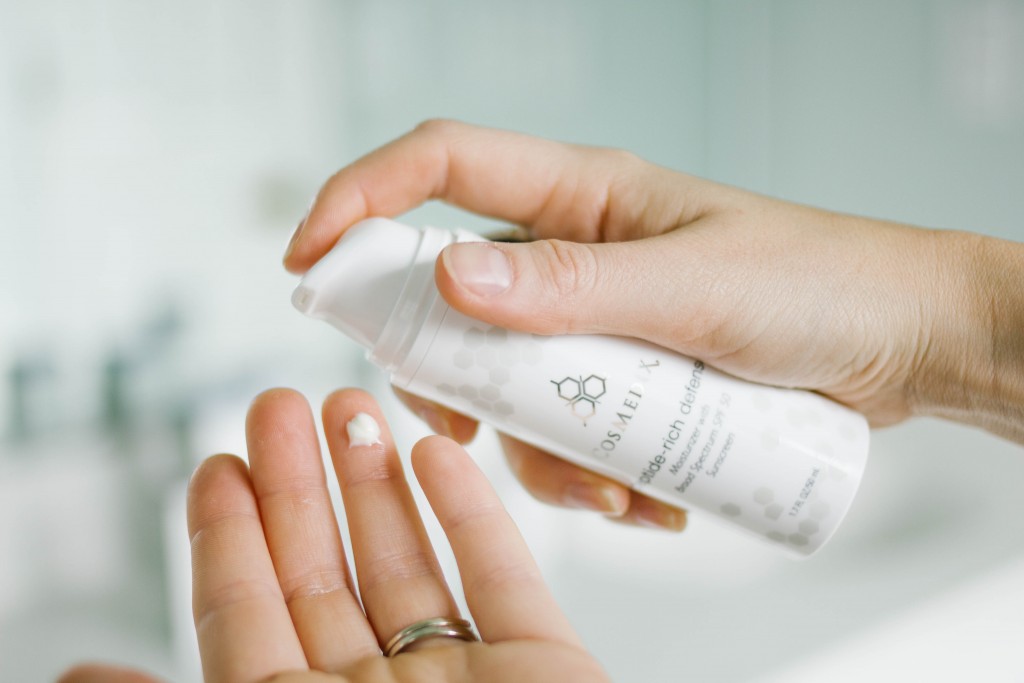 I'm going to breakdown a list of the products, likes and dislikes and the 'worth investing'. My favorite product in the group though, had to be the Peptide-Rich moisturizer! After years of damaging my skin in the sun (and fake-n-bake :/), I've been doing everything I can to prevent my skin from further sun damage.
CosMedix Review + Giveaway!
**Peptide-Rich Defense Moisturizer with Broad SPF 50 Sunscreen – First off, you never need to leave the house without applying some sort of facial cream/foundation with SPF in it. This product applied so smoothly! It gave a soothing effect to the skin and left it incredibly soft! It's not creasy or too thick.
Benefit Clean Gentle Cleanser – Since I normally wash my face with Dove soap, I was a little skeptical on a "shower-gel" consistency to deep clean my face. Just like my shampoo, unless it suds, I don't feel like it's getting the job done. But surprisingly, this lemon scented cleanser does it, even without leaving my skin feeling too dried out.
*Purity Detox Scrub Multi-Layer Detoxification System with Salicylic Acid – I've always liked having a deep exfoliator on hand and do a treatment once a week. I especially loved using this since it has salicylic acid in it! I used to get lactic peels done in Aesthetics and it really helped restore my skin. This is definitely something I will be getting again 🙂
*Cell ID Intensive Defense Serum – I had seen great reviews on this product, so I was excited to try this! First thing I noticed though was that it dried quickly and had piney/medicine aroma. The smell quickly faded though and it instantly tightened my skin!
Opti Crystal Chirally Correct Eye Serum – Unfortunately this product was doomed from the start. There's never been anything that has cleared up my dark circles, besides makeup (and I'm totally okay with that), but I tried it anyway! A tiny pump is all you need. It was a blue pearl like, sticky gel substance that never seemed to dry up. I noticed a little difference :/
**Affirm Antioxidant Firming Serum – Grapefruit/citrusy smell. Leaves slightly sticky residue, but pretty typically for a serum. I did notice a huge difference in the diminish of broken capillaries around my nose and post acne scars. It's meant to repair and restore the skin and I'm a firm believer it did!
*Serum 16 – Thicker consistency than the other serums I tried. Left skin looking dewy! Fresh lemon and thyme scent. I haven't noticed a huge difference yet, but I'm sure I will! It contains two types of retinol!
Rescue + Intense Hydrating Balm & Mask – Texture of Vaseline and essences of honey. This product intrigued me. It reminded me of a trick my mother taught me to soften feet. I'd apply Vaseline to the bottom of my heels and sleep with it overnight with socks on. They would feel so soft the next morning! My face did feel much more soft and looked more subtle the next morning. I would highly recommend this product during the colder seasons!
---
GIVEAWAY!
To enter, please follow these instructions:
Follow our accounts: @dannonkcollardmua + @cosmedix_
"Like" this picture, featuring CosMedix, on my Instagram.
Comment on the same picture, tagging 2 friends!
Winner will be announced Sunday, October 11th 🙂
---
This post was sponsored by CosMedix!