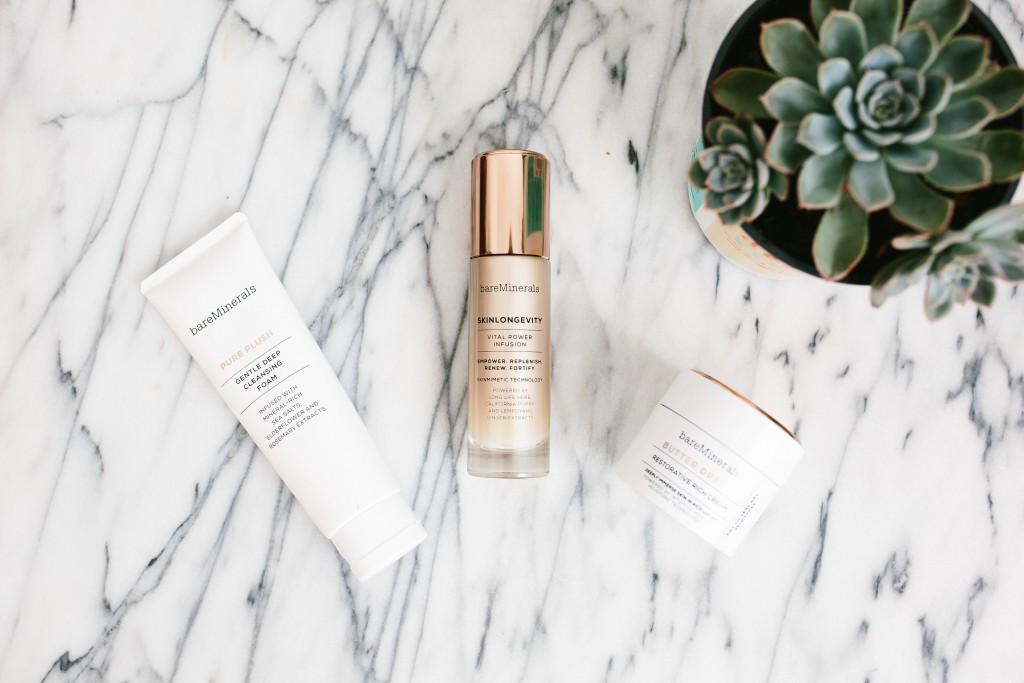 BareMinerals has asked me to personalize my own 3 part beauty ritual with their new Skinsorials line featuring Skinlongevity!
As I've mentioned before, my regular skin care routine consists of a bar of Dove soap and $3 Vitamin E moisturizer. When I need to remove some heavy duty eye makeup, I use baby oil. It's a very basic routine that has been the most convenient and inexpensive solution for me..but is it really the best treatment for my skin?
Being an aesthetician and a makeup artist, I realize the importance of taking care of your skin and having a proper base for the best makeup application.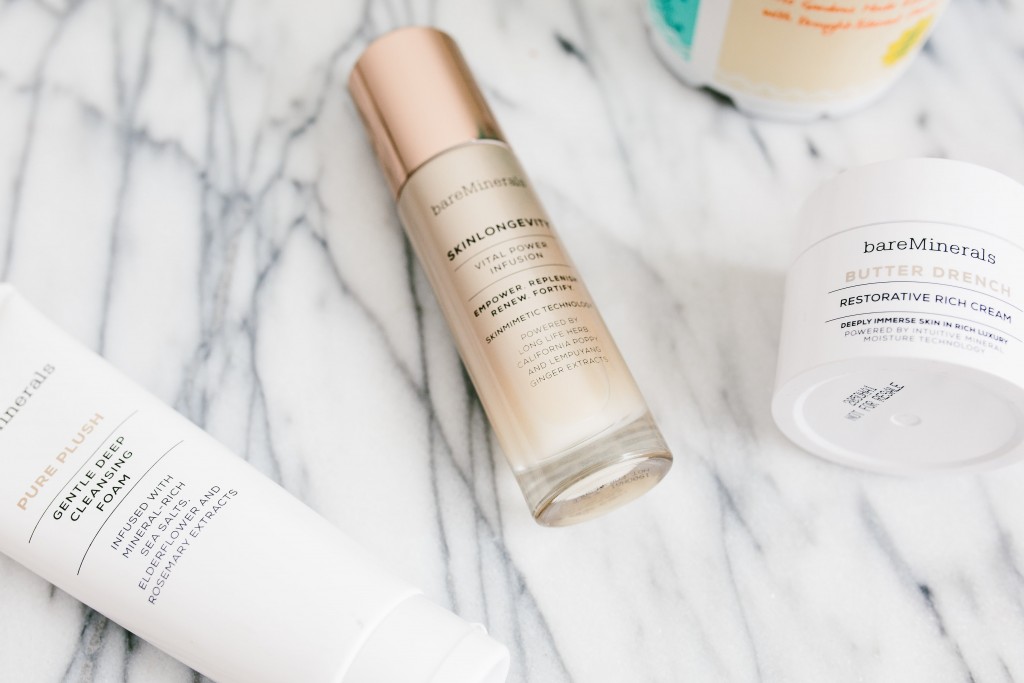 After trying out all the products, I found my favorites! I've written out reviews of each, in the order I apply them.
BareMinerals Skincare Review
Step 1 // Cleanse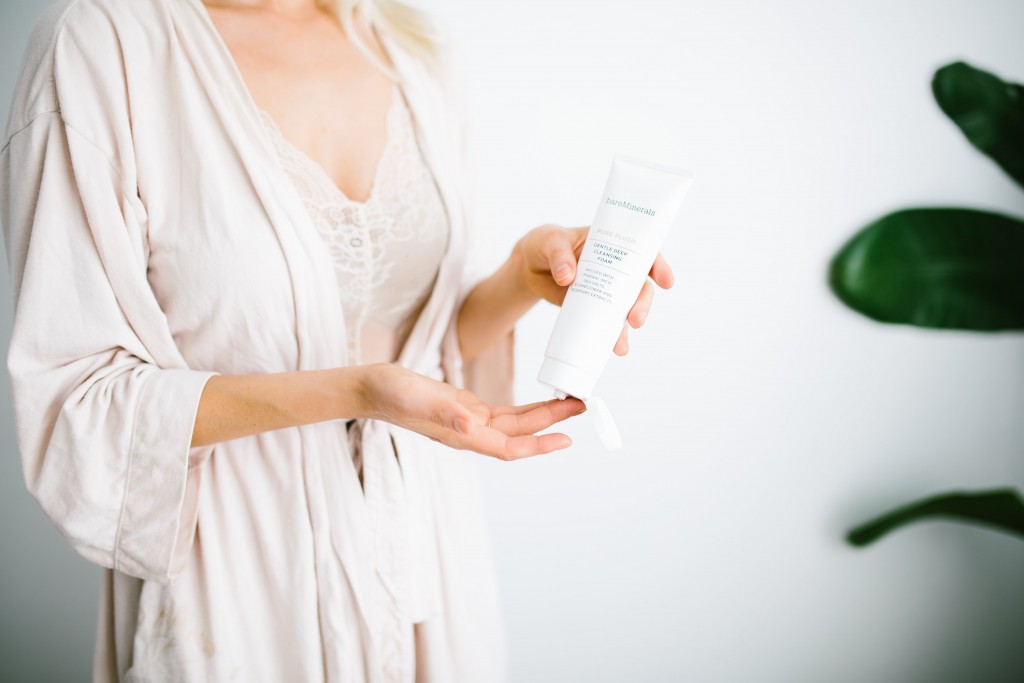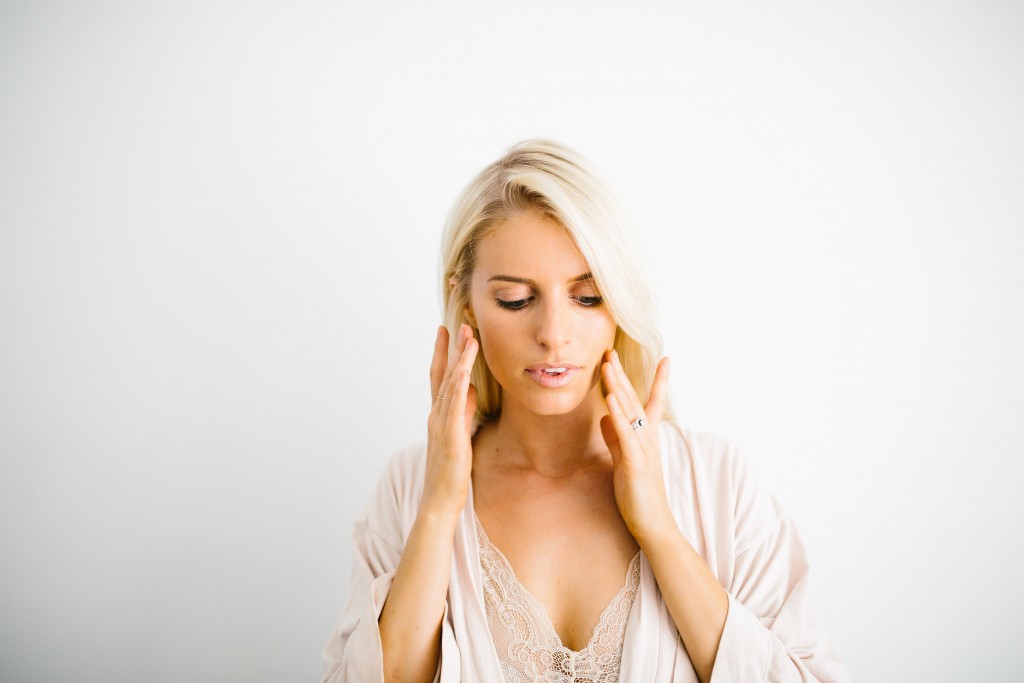 TIP: When rinsing, splash your face with water several times to remove your cleanser instead of wiping if off with your wet hands.
Pure Plush – Gentle Deep Cleansing Foam
My favorite cleanser out of the bunch and probably my most favorite cleanser I've ever tried! It was a thick, soft, lotion consistency and it foamed after massaging into the skin. Pleasantly faint scent, which was perfect for my sensitive skin. My favorite part was the sound my skin made after a couple of splashes of water to rinse..it was like the sound from wiping fog clear from a windshield! Crazy I know, but the sound was surprisingly gratifying and made me even more certain how well it had cleaned my face!!
Step 2 // Tone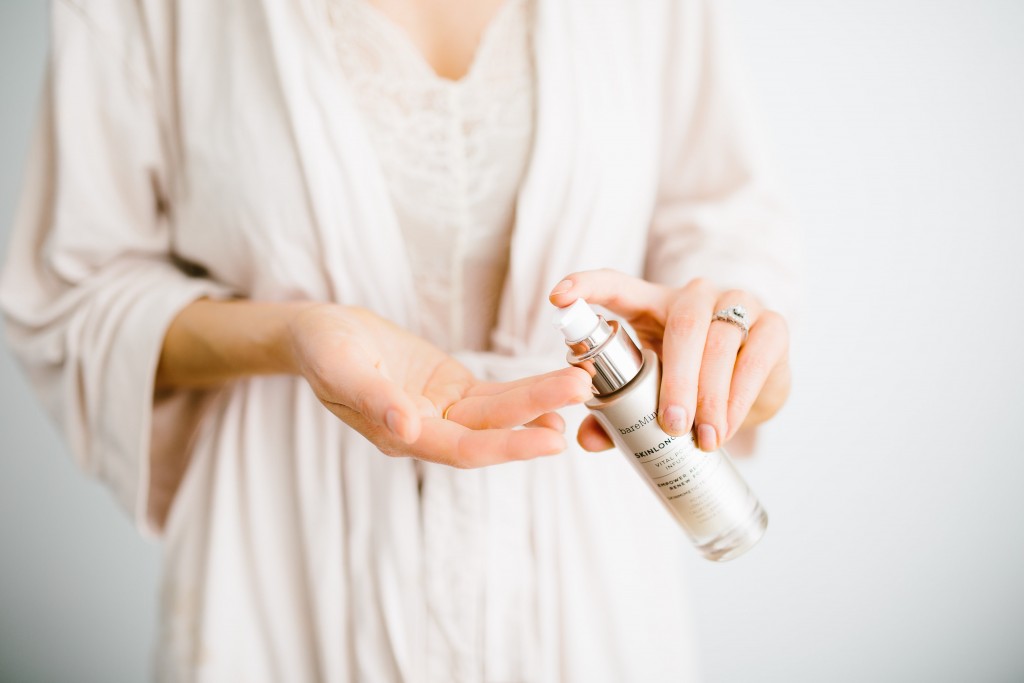 TIP: It's best to use your middle and ring finger when applying products to your face to insure you're using the least amount of pressure.
Skinlongevity – Vital Power Infusion
Serums. My favorite 🙂 And I was especially looking forward to trying this since it is designed to protect skin against signs of aging. I've been using this for awhile now and even though my skin has been introduced to a lot of skin reforming products since my start of this BareMinerals regimen, I believe this one has been doing most of the wonders!
I've definitely noticed my skin changing over the past 6 years. I'm 28 now and even though my skin is still fairly young, it's certainly developed a nice share of sun and acne spots and a few fine lines and wrinkles. But I believe you're never too young, or old for that matter, to start taking care of your skin!
Skinlongevity has already made a huge difference in the radiance of my skin! I'm all for products that don't have to be used for several weeks before noticing changes 🙂
Step 3 // Moisturize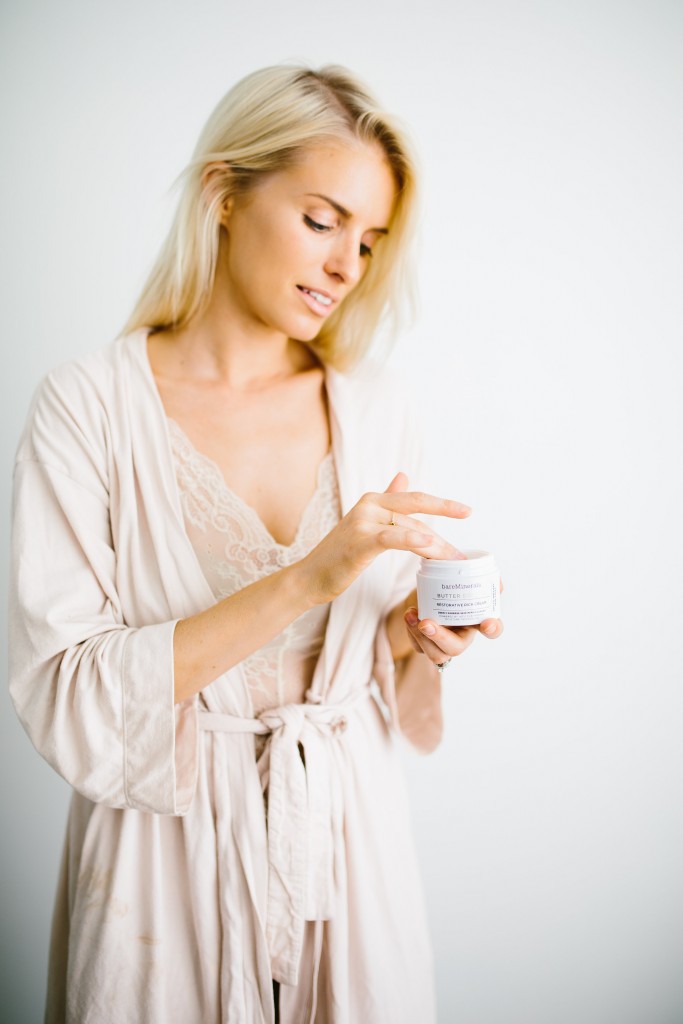 TIP: Don't forget to apply on your neck and hands! People tend to forget about those areas and they are also first to show signs of aging.
Butter Drench – Restorative Rich Cream
This stuff is incredible! I love thick, heavy creams! There's nothing better for your skin then moisture and lotion. Especially ones that actually absorb quickly, leave the skin supple and not greasy, which is exactly what this one is! I now look forward to taking off my makeup at night. It makes me feel so much better (not to mention my skin!) that I don't feel like it's a chore to do now.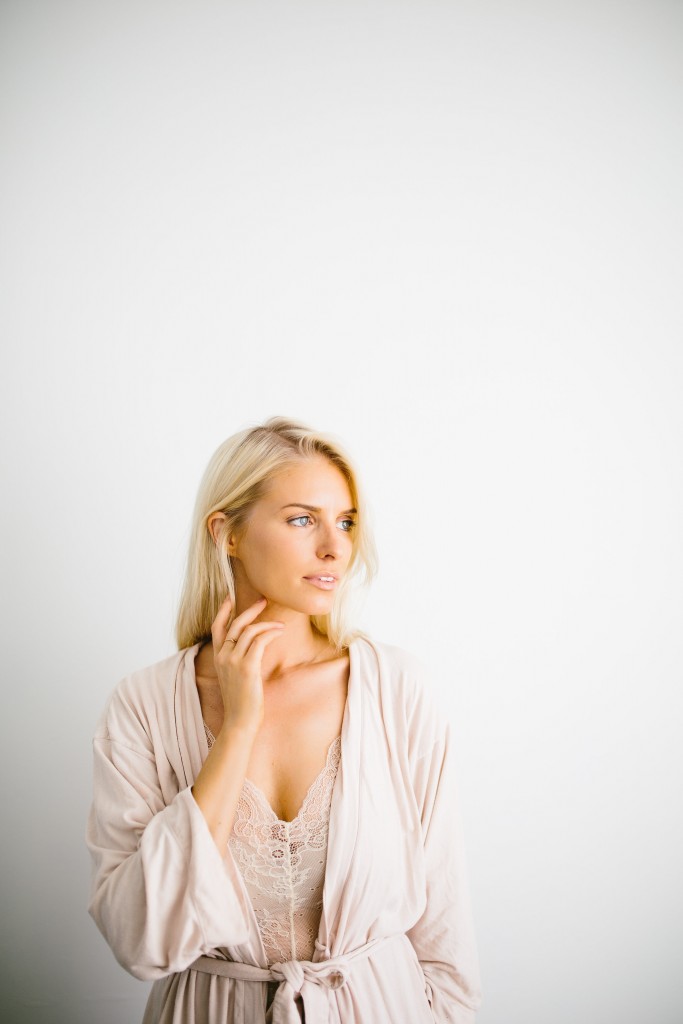 What I loved about all the products, were how natural they felt and smelled. I'm sure we all know that that plays a huge role in the brand, but it's such a relief to see them now carry that into a skincare line. Another thing I loved was that all cleansers didn't leave my skin dried out and all the moisturizers were fast absorbing and left the skin soft and dewy without feeling creasy or leaving my skin oily throughout the day.
Here's the rest of the new line! There are so many options to choose from, which is perfect not only for each specific skin type, but for all throughout the year!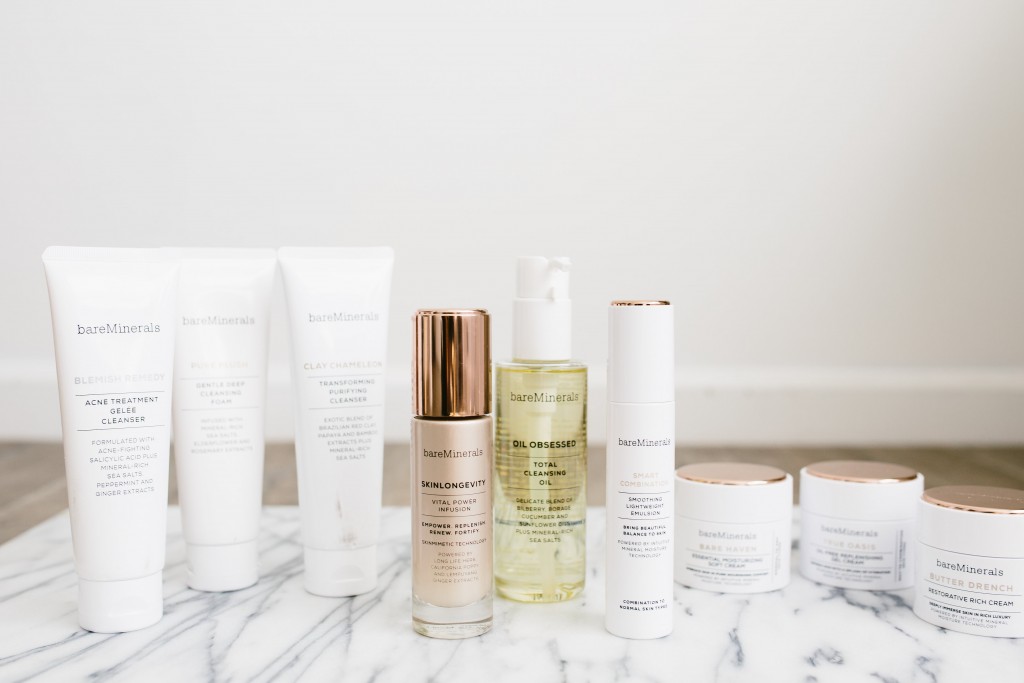 I also really loved the Oil Obsessed! It was perfect for removing eye makeup and so gentle on my lids! And the best part, it comes off after rinsing your face with water; no scrubbing off the slick with soap! 🙂
---

---
A special thank you to WhoWhatWear & bareMinerals for sponsoring this post. All thoughts and opinions are my own.