Football Tailgate Theme Party
If you know me, you know I love to plan themed parties..and not just any pinterest themed, extravagant, pricey themed party…and over-the-top, specifically dedicated  for your birthday, won't-break-the-bank kind of themed party!! haha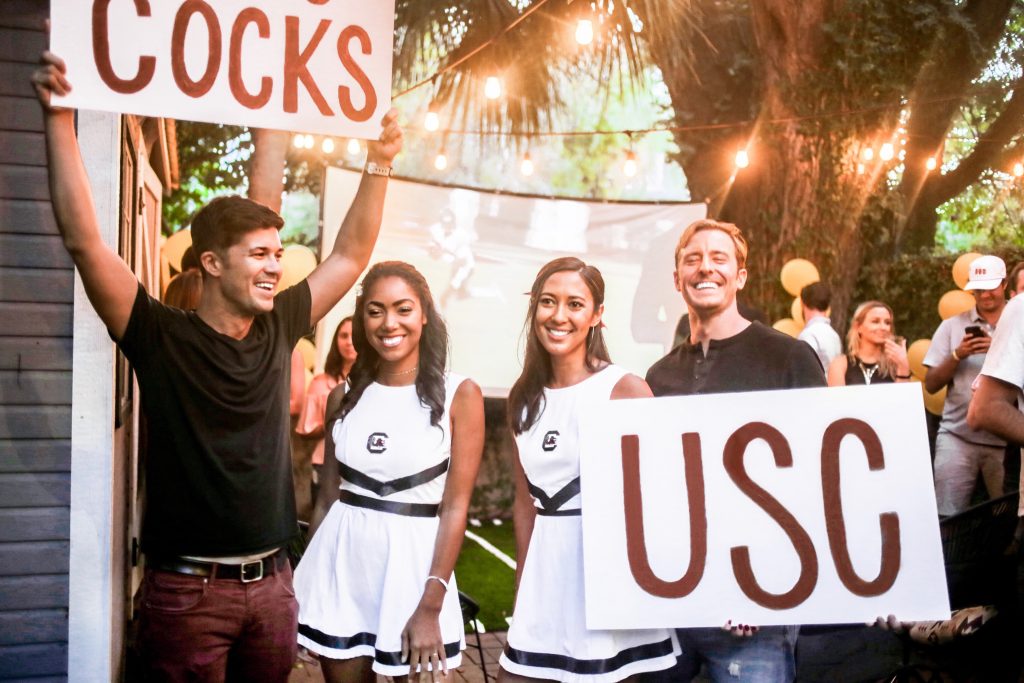 When it came to celebrating these two September baby, Carolina Gamecock fans, throwing them a tailgate party was the obvious way to do it. We'd pregame with beer pong, wait for the 7:30 game to kick off..the more I thought about it, the more over-the-top I wanted to be. We wouldn't just watch the game inside..we'd have it outside, on a projector! No-wait! ..a projector that would be held across our turf lawn that I would turn into a field with white duct tape! What about the goal posts?! We HAVE to have goal posts!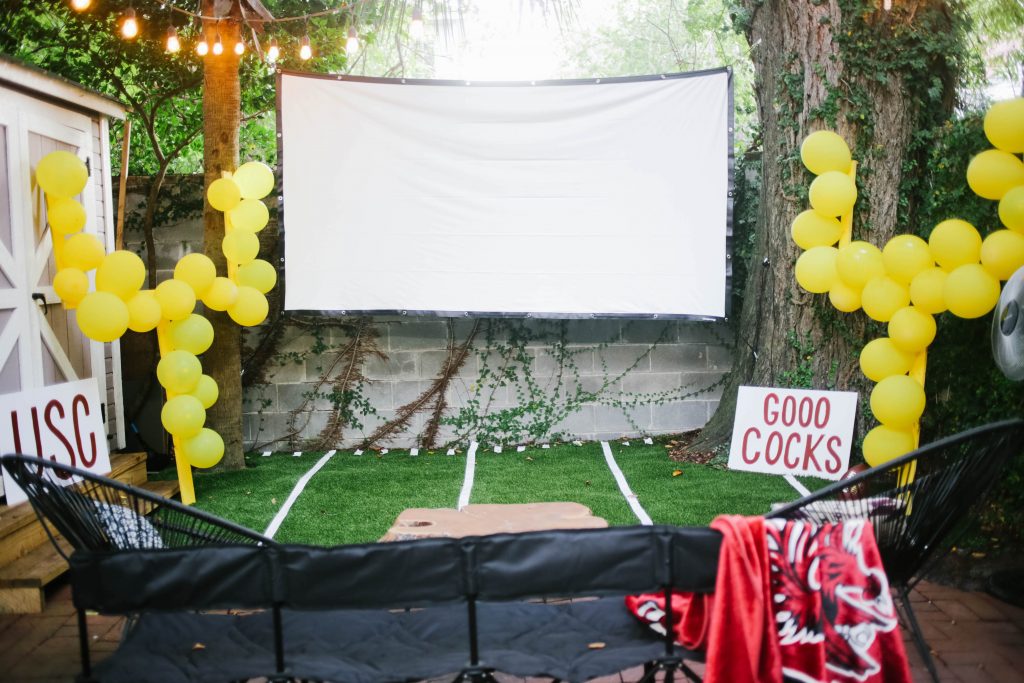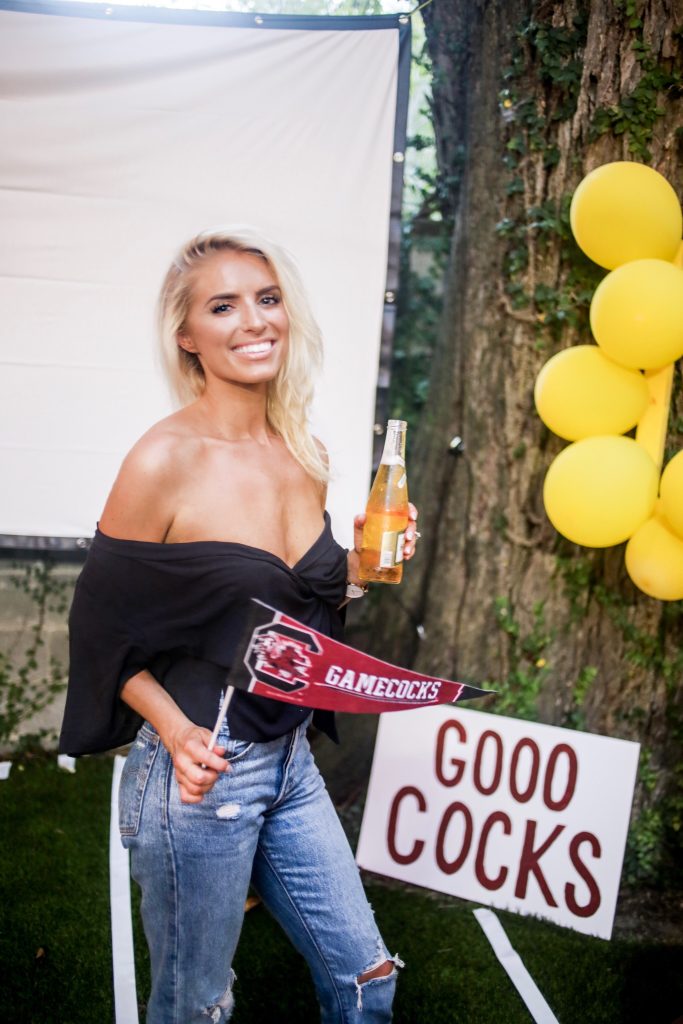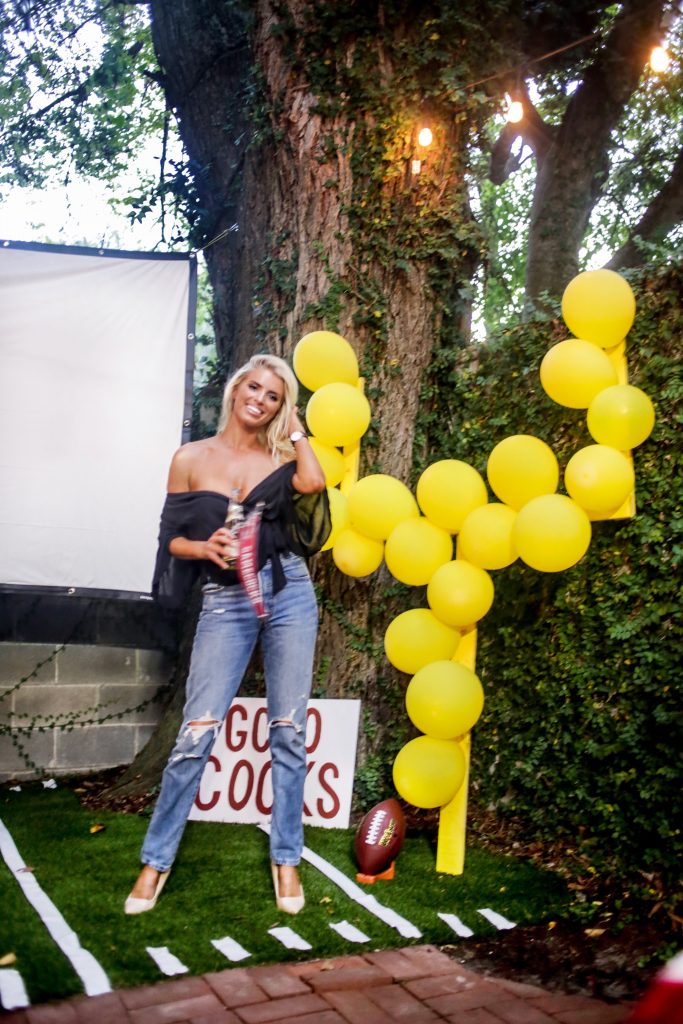 After everything was planned out and executed..there would be two surprised birthday boys entering the "stadium" through fog to 2001: Space Odyssey, awaiting their "fans" and being cheered on by 2 beautiful women in cheerleader outfits! It would be perfect! It was perfect..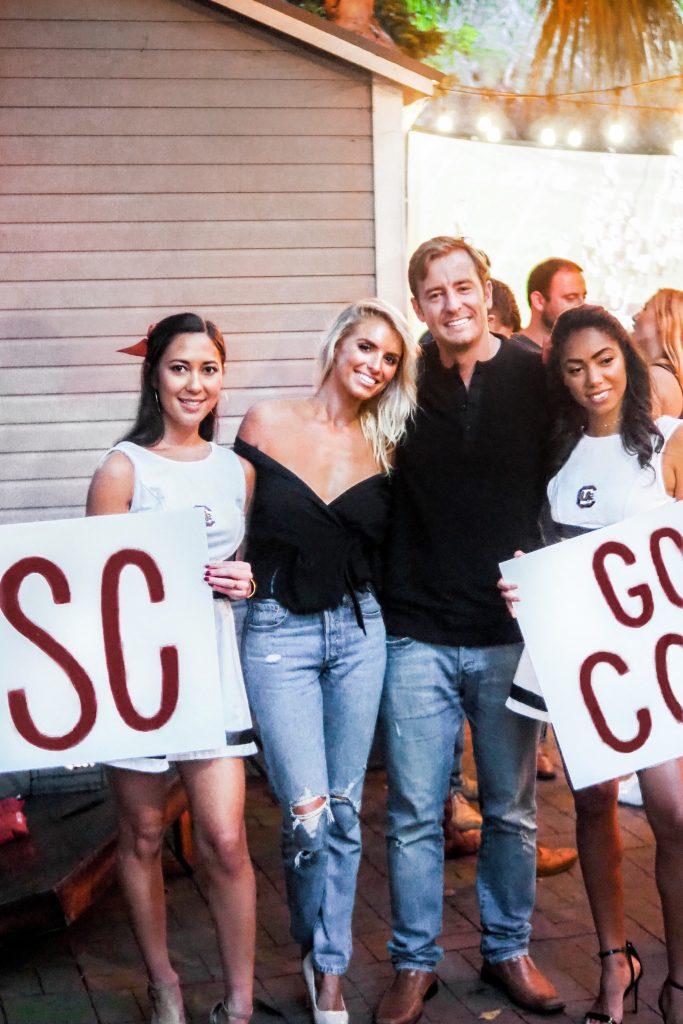 First, how about these 2 cheerleaders and their DIY costumes?! When I couldn't find 2 girls to hire at the last minute, these sweet friends of mine volunteered to play the part. I bought these two white skater dresses (the LAST two dresses available in-store) from Forever 21, cut black ribbon and cutout the gamecocks from white ribbon (sneaky huh?) and hot glued them minutes before the party started. It was THAT easy you guys.
Made quick bows from garnet ribbon for their hair which they attached with bobby bins. And I made the signs instead of pom-poms, so they could also be used as props, with white foam board and hand painted the chants on them!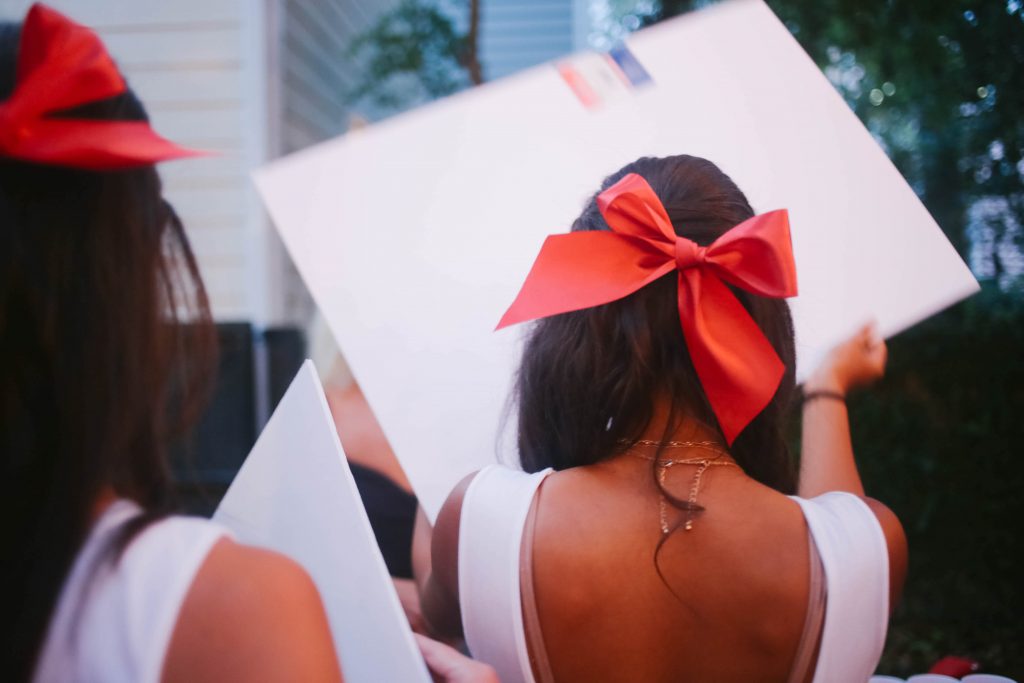 For the field, we already had a turf lawn (best investment ever). But since I couldn't spray paint lines on it without ruining it, I thought to use white duct tape instead! It actually held up really well! Quick to setup and easy clean up. Then I made goal posts from left over wood we had, each post was 4 ft long..doesn't get much easier than that right? Spray painted them yellow and then used a staple gun to attach yellow balloons to make it extra festive.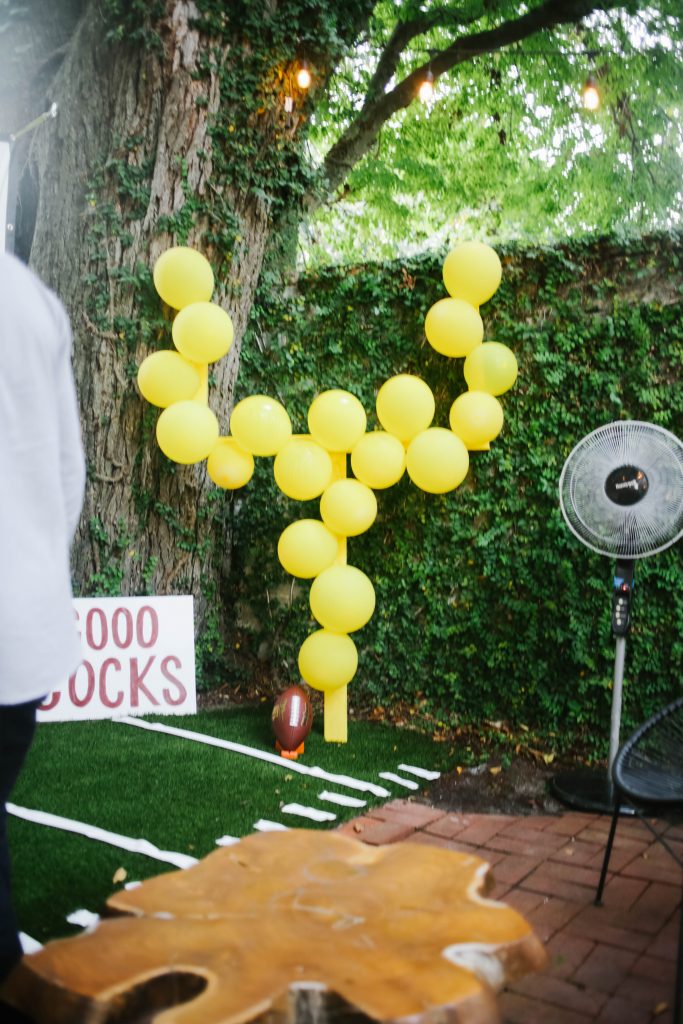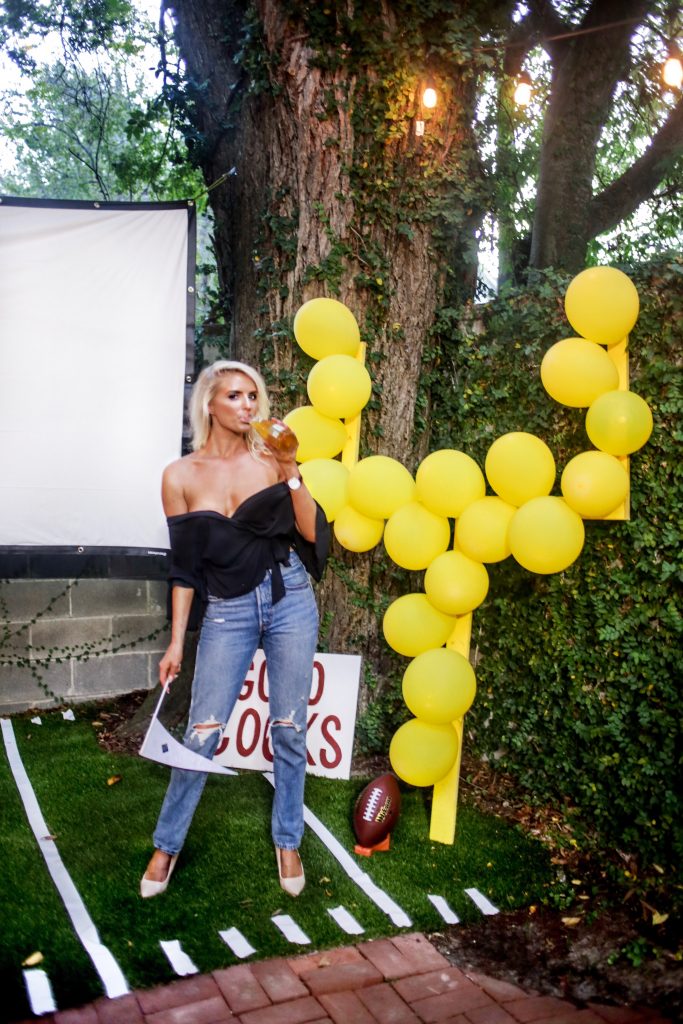 Keep in mind, my best friend English and I decorated the day before. On the day of, I had a wedding of 9 girls to do makeup for (9am-2pm), food was to be delivered by 3pm, I still had to setup the food, shoot everything for the blog, get ready, finish the girls costumes..I honestly don't know how I did it, but just telling you guys that you can do it too-especially with great friends that help you out along the way!!
Now it was time for the guests to arrive! We setup beer pong and cornhole for everyone so they could enjoy  true tailgating experience before the football game kicked off at 7:30pm.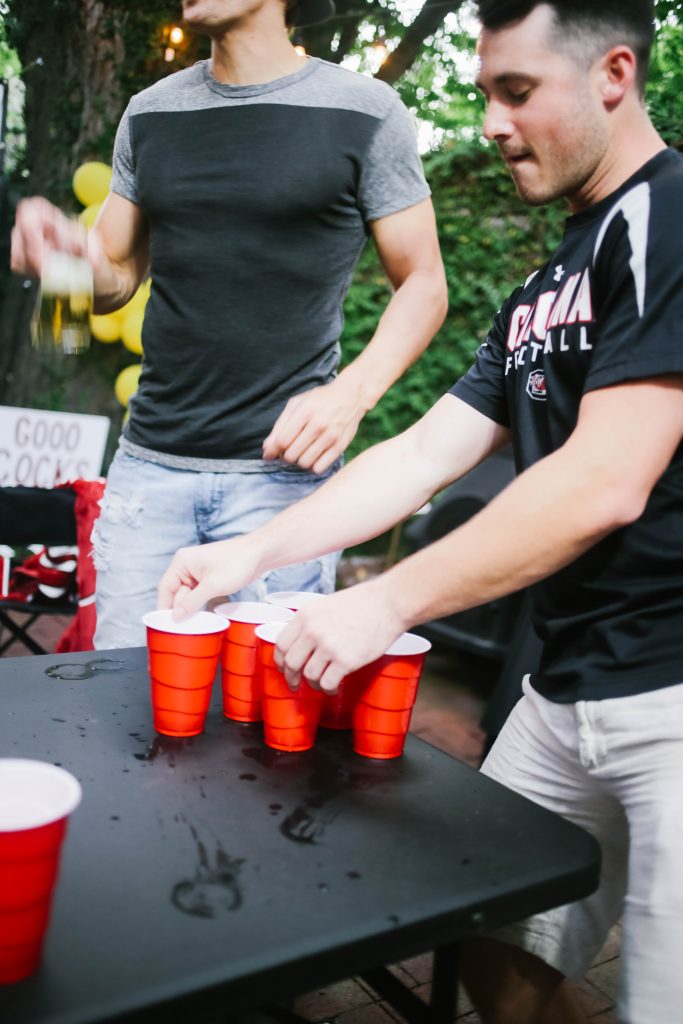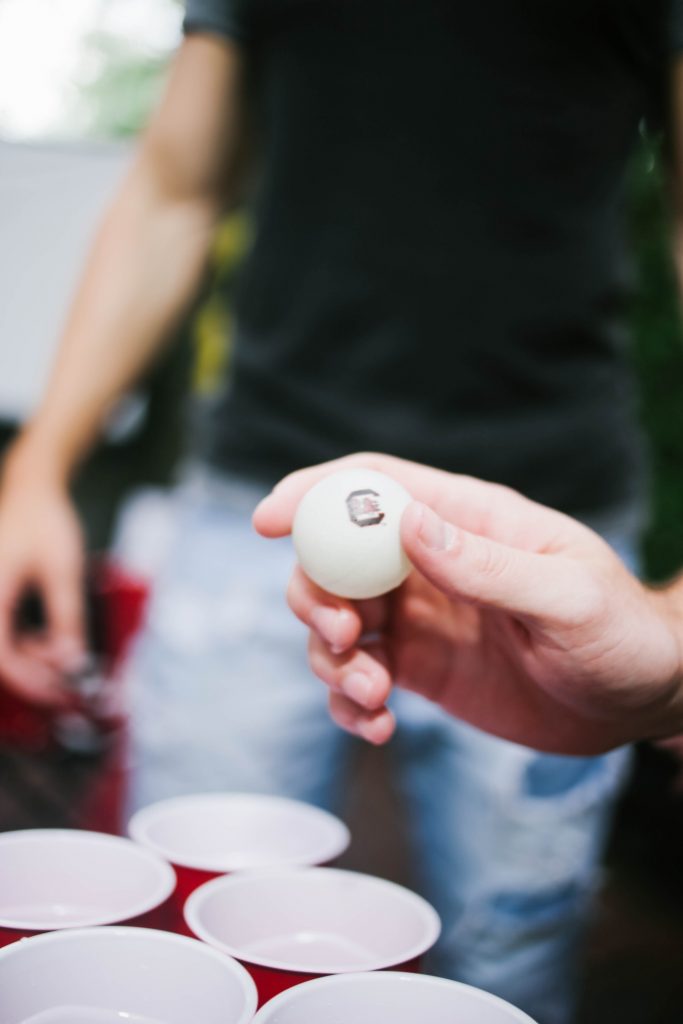 Nothing makes me happier than to make someone feel so special for their birthday. To let them know how much they are loved and cared about. And what's even more special is to watch all the people who love them just as much, come and celebrate it with them..it's so much fun to be on the sidelines and watch everyone around you have a good time. It's also the worst knowing that at some point, the party will have to end 🙁
For the food, we were so grateful and honored to get the chance to work with Hamby Catering! All of the items we served are available in their Market,  including the Tailgate Package and desserts, located at 925 Saint Andrews Blvd and we are open Monday-Saturday from 9:00-5:00. You can order online too here which makes it super easy!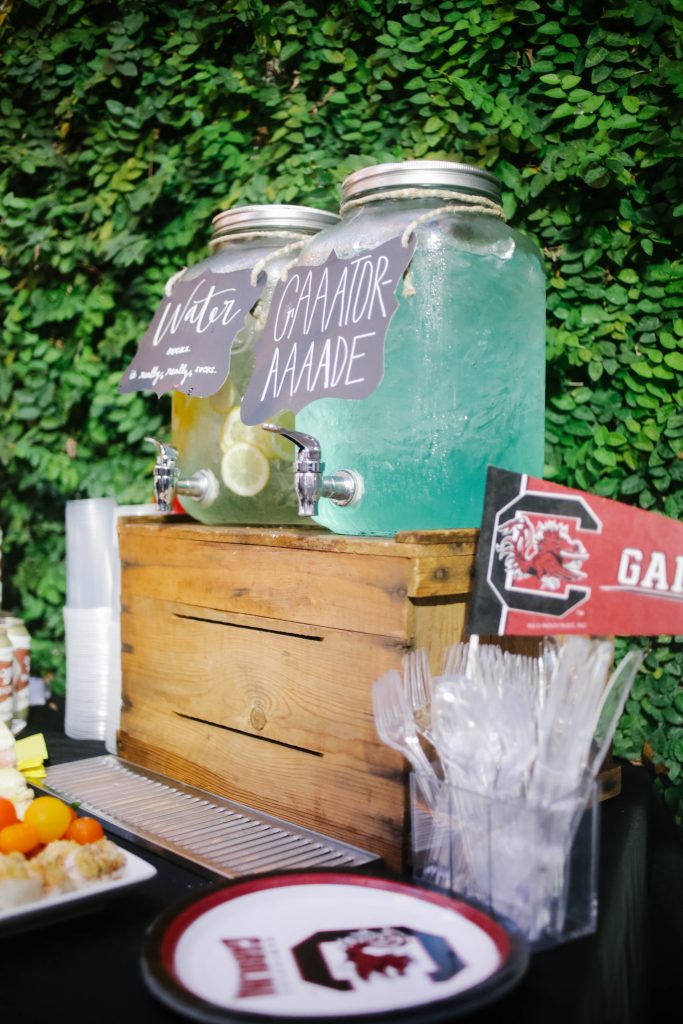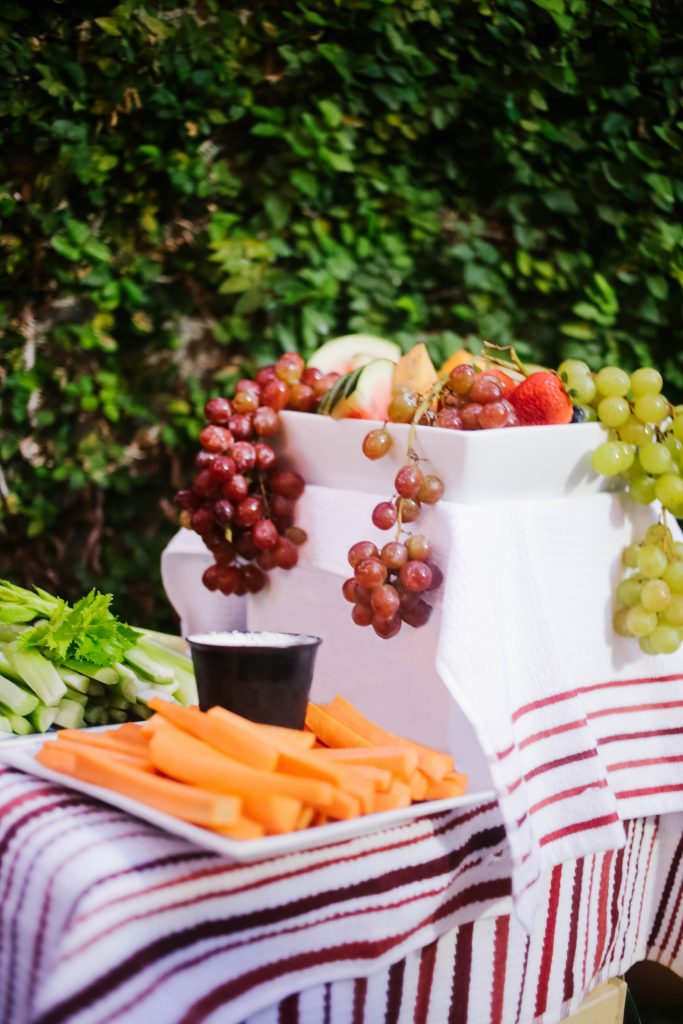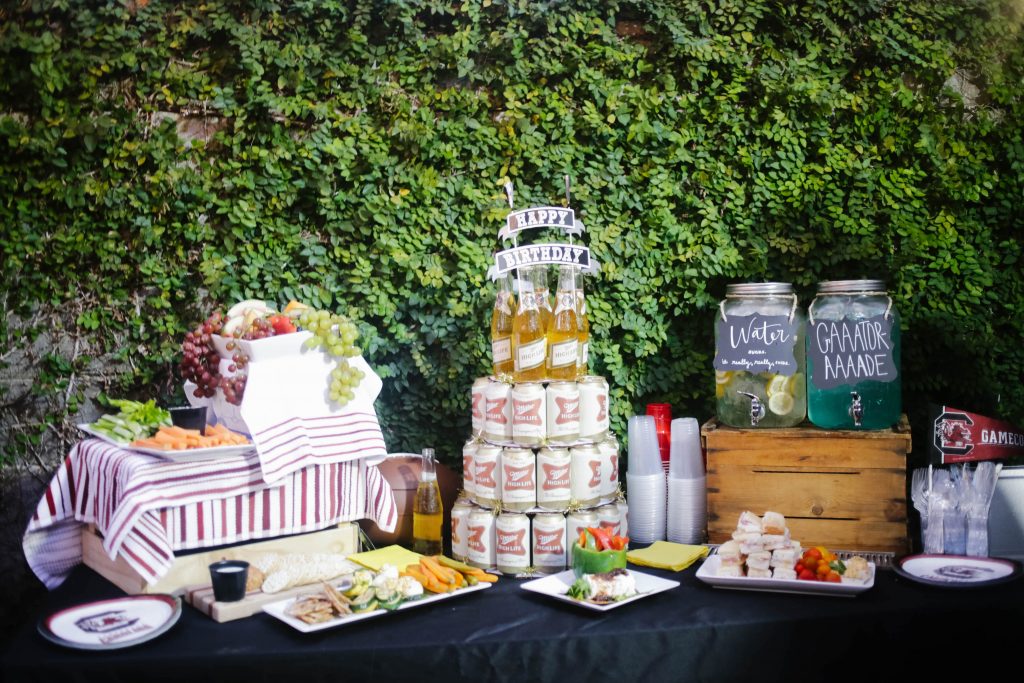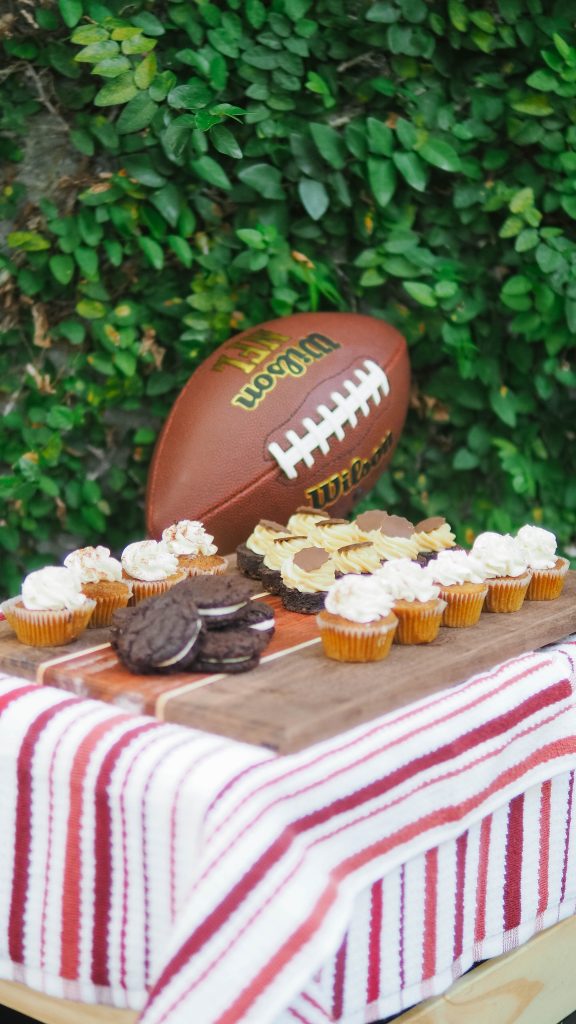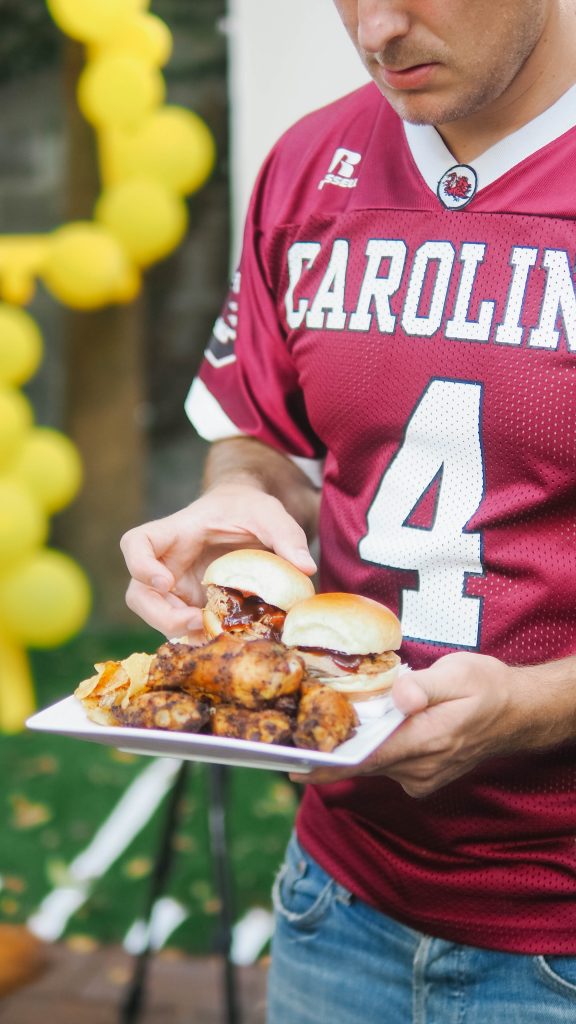 And of course, it wouldn't have been a party without some of our awesome friends to share it with us! Thank you ALL for coming out and helping us make it a special night for Peter and Josh!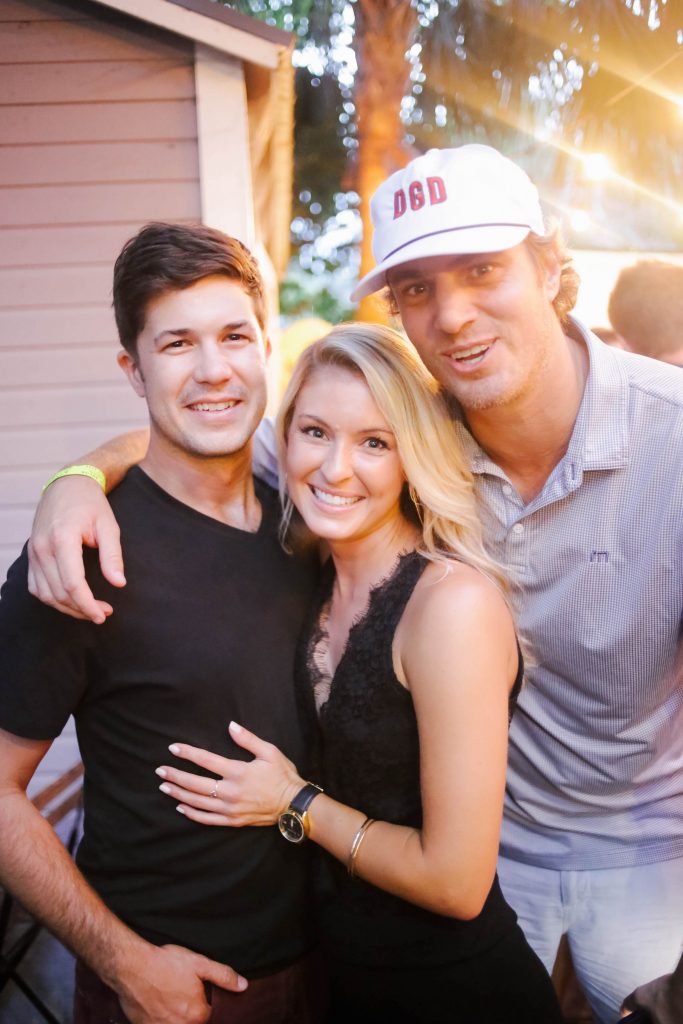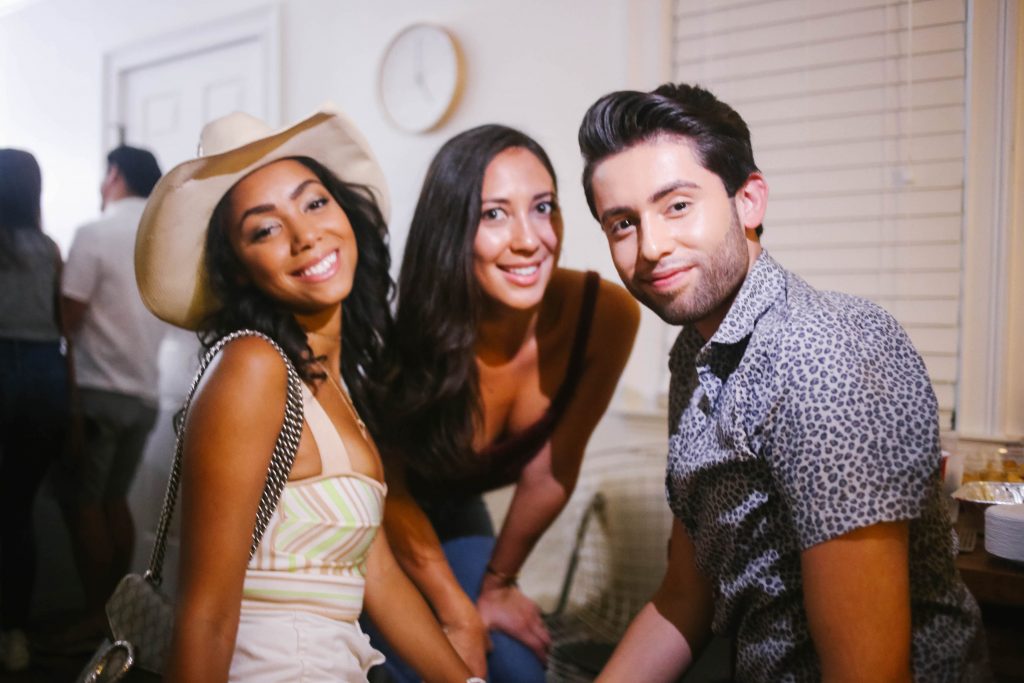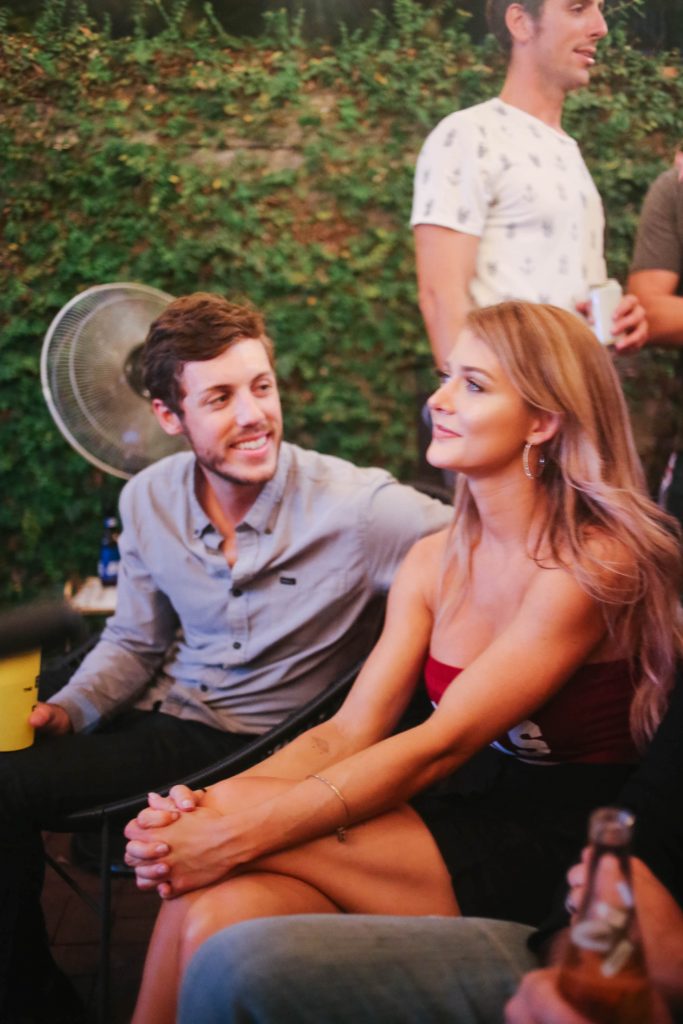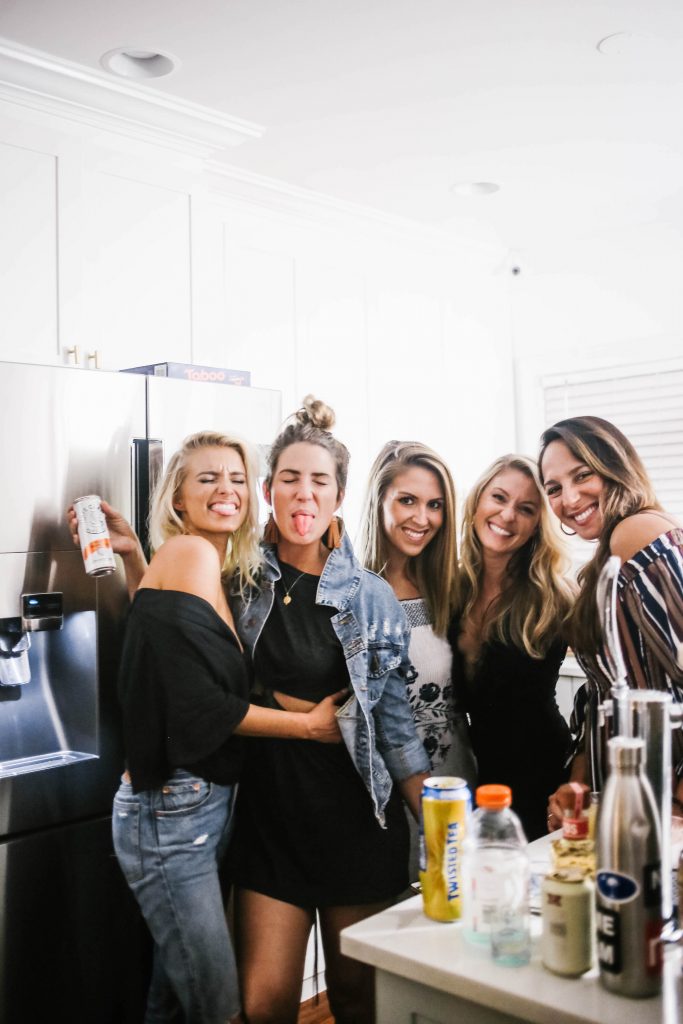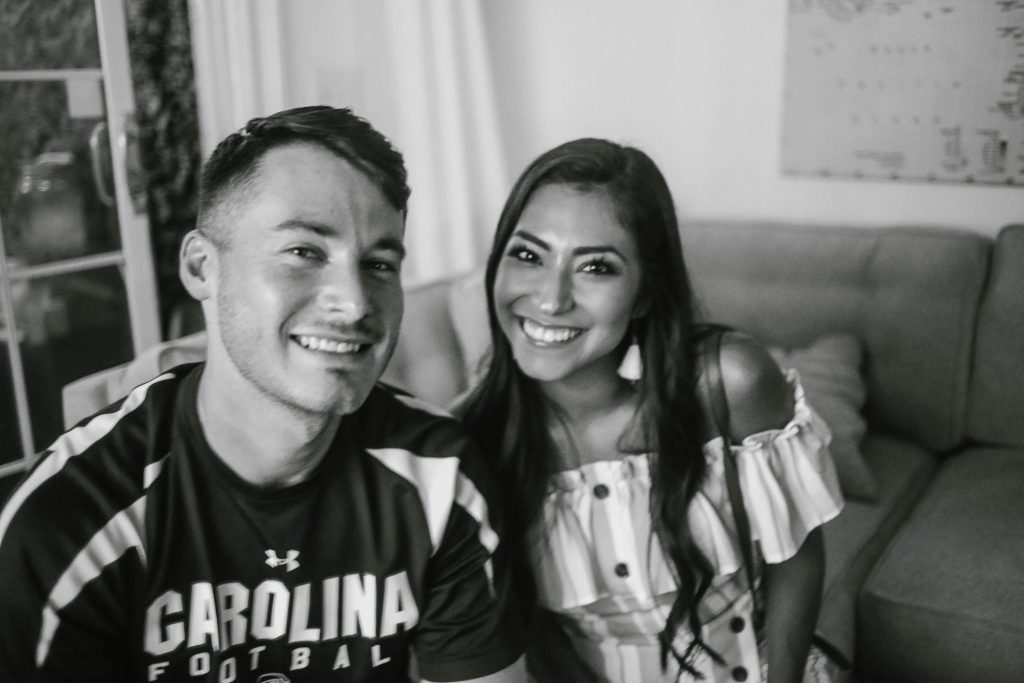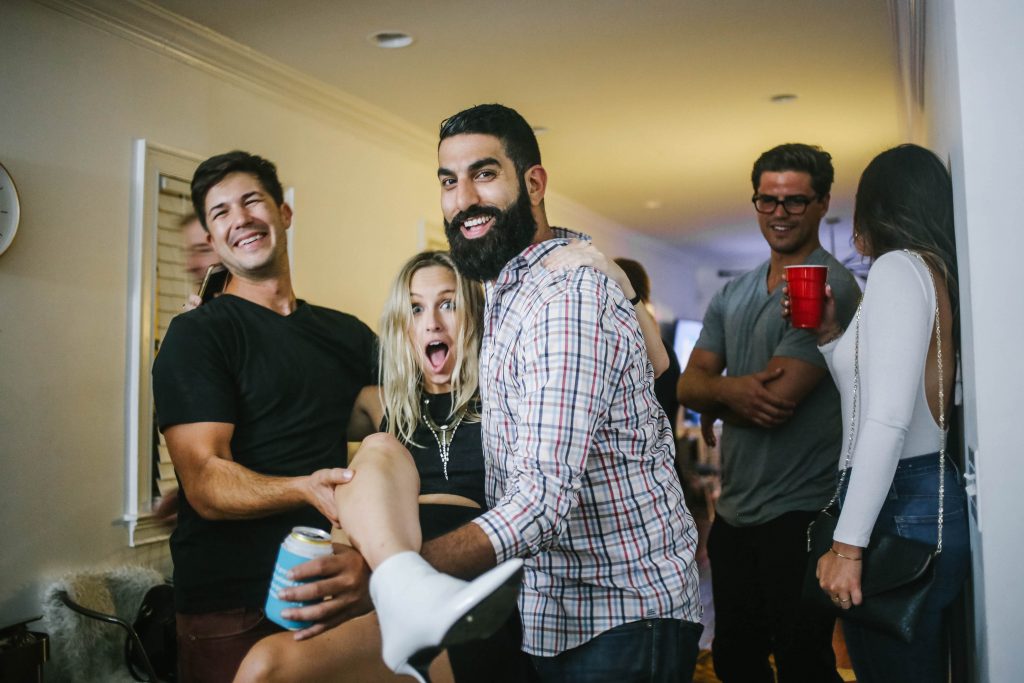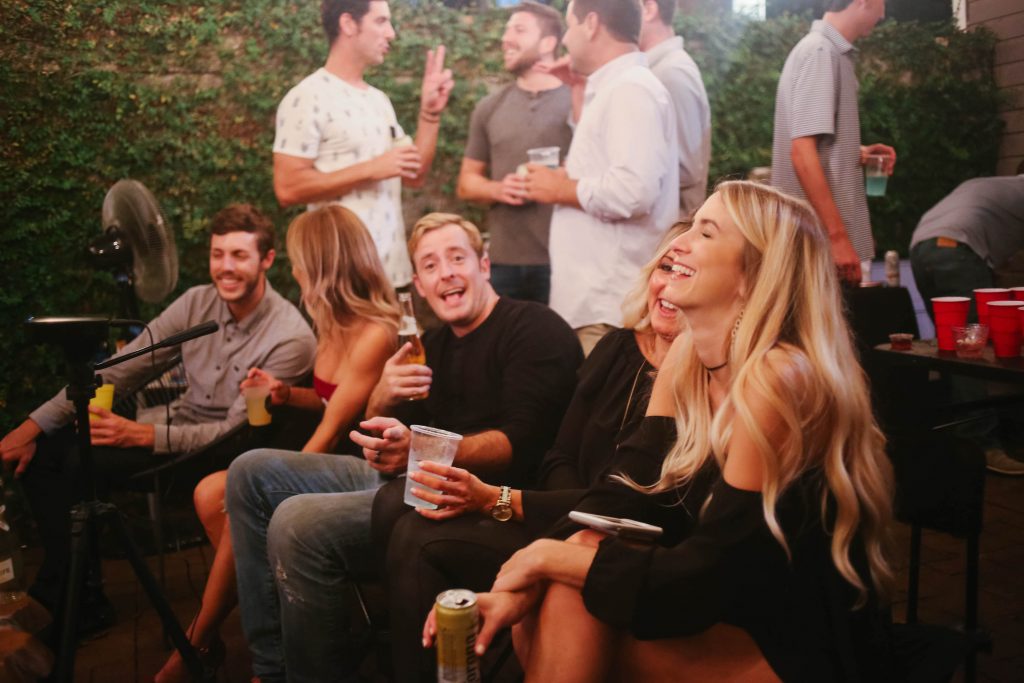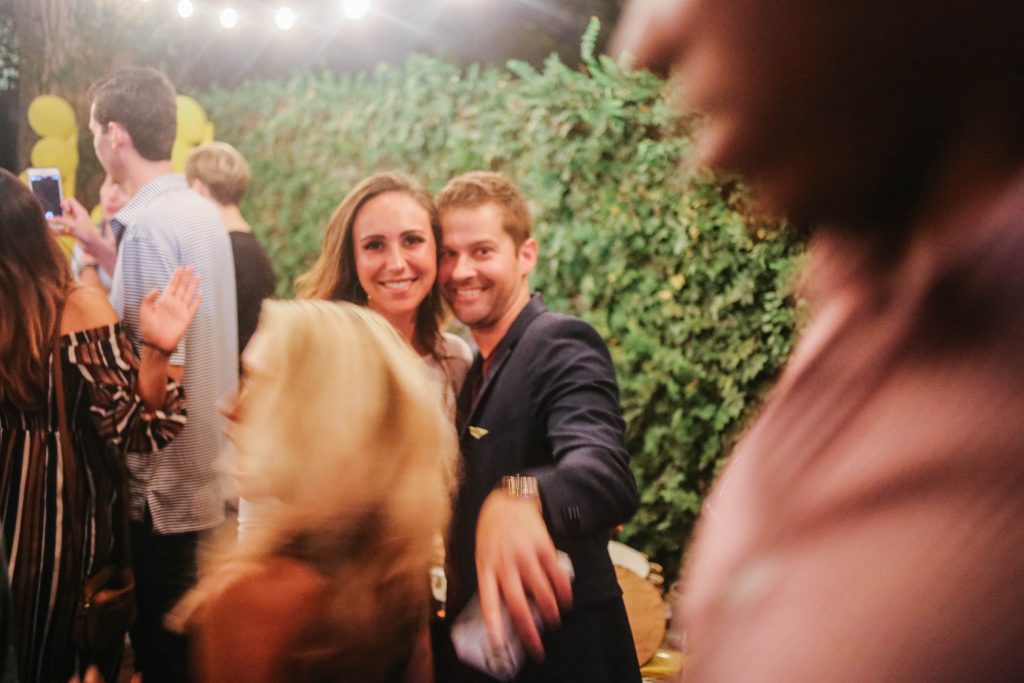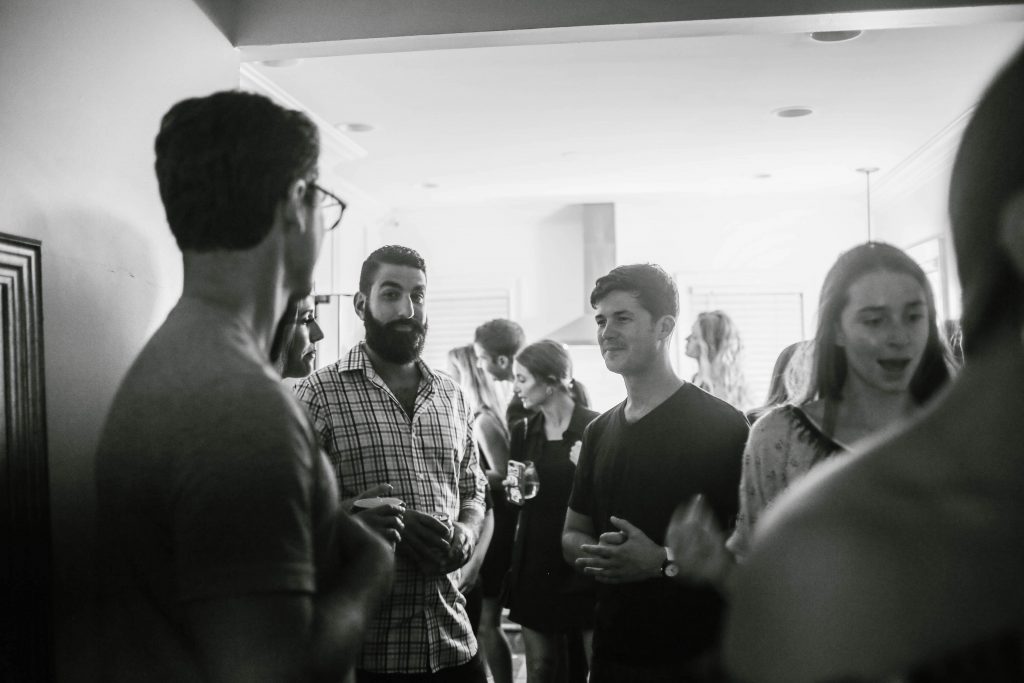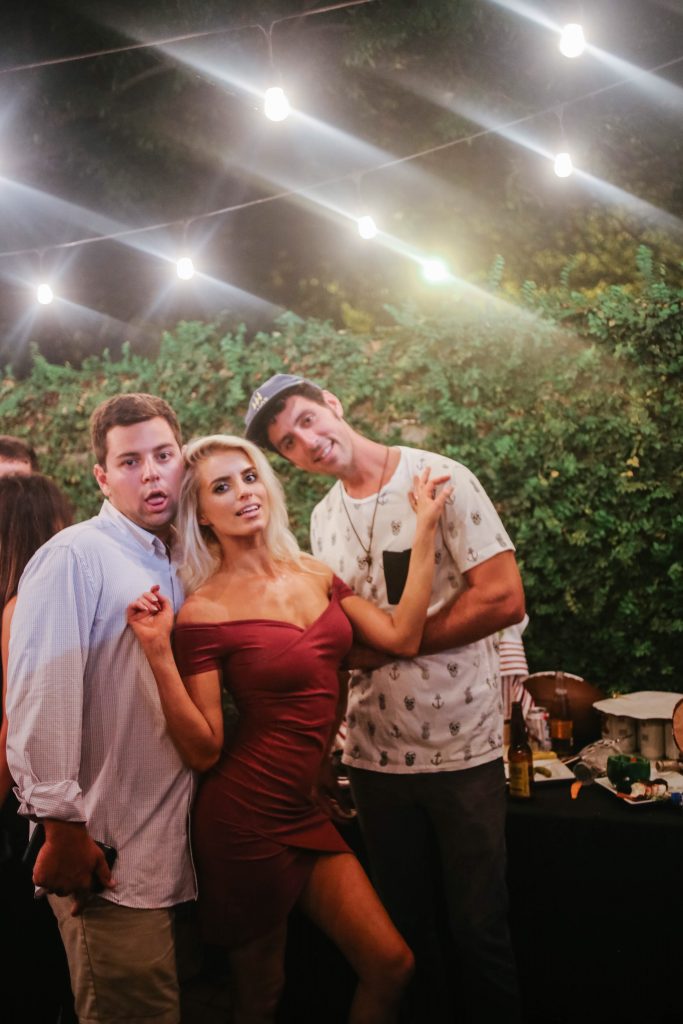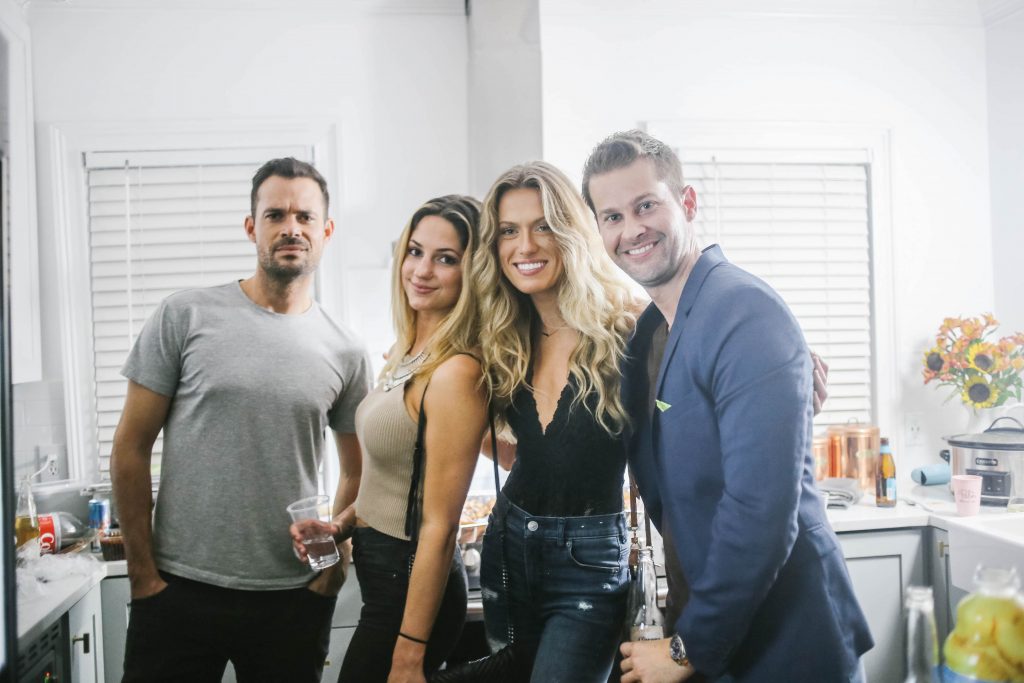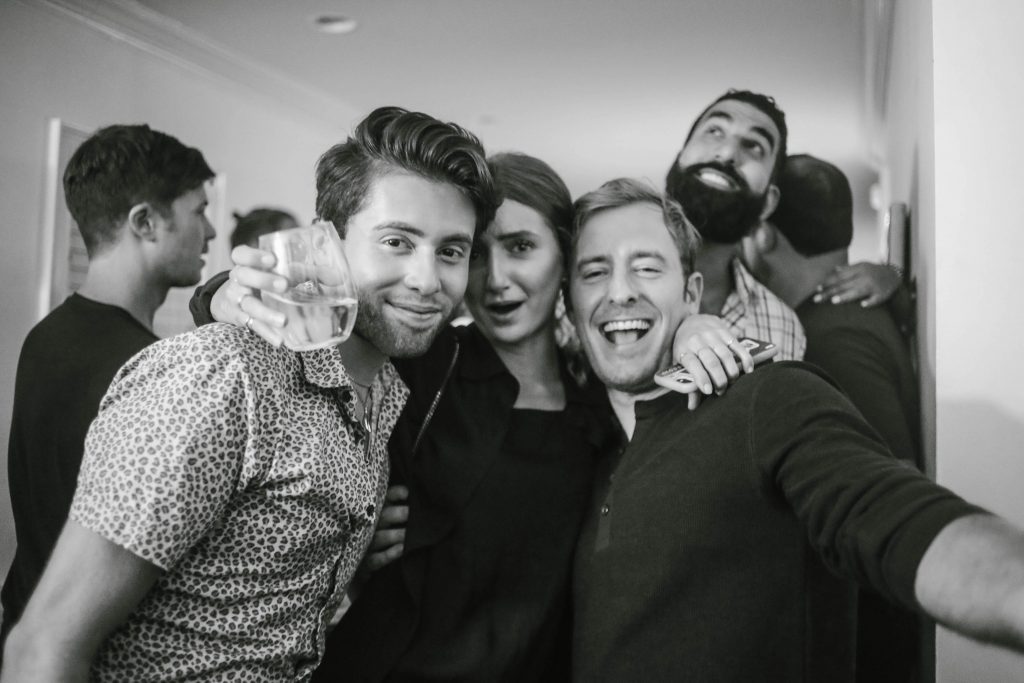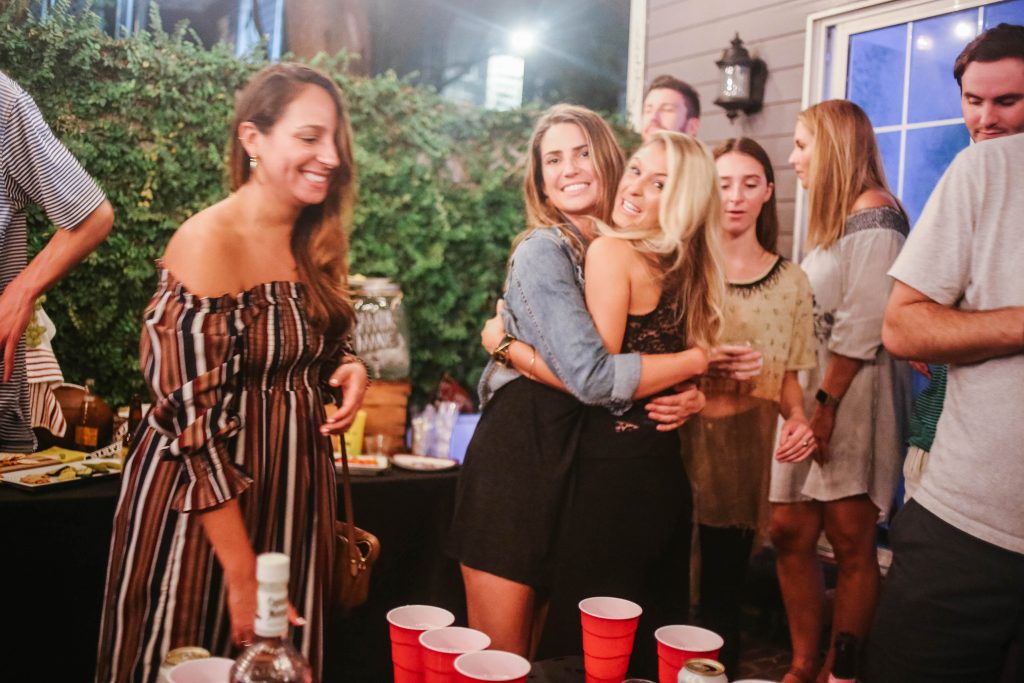 And for the best part….the entrance we caught on tape lol