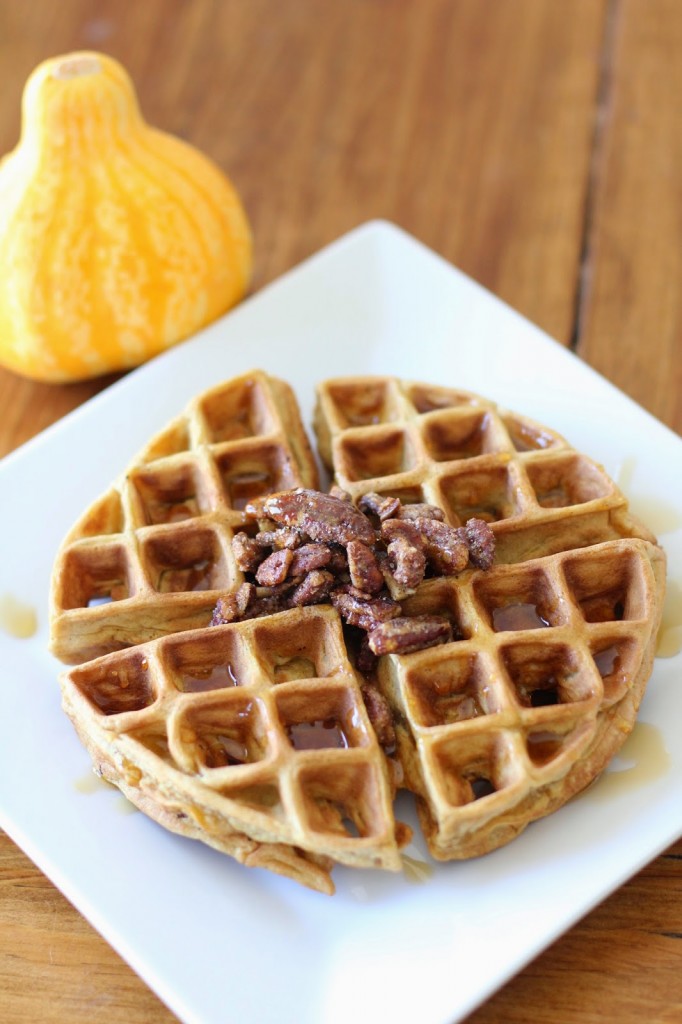 Made these delicious pumpkin waffles with roasted pecans this weekend. DELISH!! It's been the perfect weather for turning the AC off and leaving your windows open. I just love seeing the wind blow my white sheer curtains 🙂
Hope you guys enjoy and please let me know what you think!
Waffle Ingredients //
2 cups all purpose flour
3 tbsp dark or light brown sugar
2 tsp baking powder
1 tsp baking soda
1/4 tsp ground cinnamon
1/2 tsp all spice
1/4 tsp nutmeg
1/2 tsp salt
1 1/2 cup milk
1 cup canned 100% pure pumpkin (or 8 oz of home-made pumpkin puree if you're an over achiever like myself ;P)
1 egg yolk + 3 egg whites (read instructions)
4 tbsp cool melted butter
Instructions //
Whip 3 eggs whites until fluffy. (This was my first time trying it and it was so cool!)
Combine dry ingredients in large bowl.
In a separate bowl, mix milk, pumpkin, butter and egg yolk.
Add that pumpkin mixture to dry ingredients, mix.
Gently fold in egg whites.
Use batter immediately in waffle maker.
Roasted Pecans //
*Preheat oven to 225 degrees F
Ingredients
2 egg whites
1 tbsp vanilla
2 1/4 cup pecan halves
1/2 cup white sugar
1/2 cup brown sugar
1/4 tsp salt
1 1/2 tsp ground cinnamon
Instructions //
Lightly grease cookie sheet.
Combine egg white + vanilla beat until fluffy.
Fold in pecans to coat evenly.
Combine sugars, salt + ground cinnamon in a shaker.
Spread nuts over prepared pan.
Dust pecans evenly with sugar mixture.
Bake until toasted + fragrant. Stir frequently 15 mins for about 1 hr.
Cool on pan + store in an airtight container.