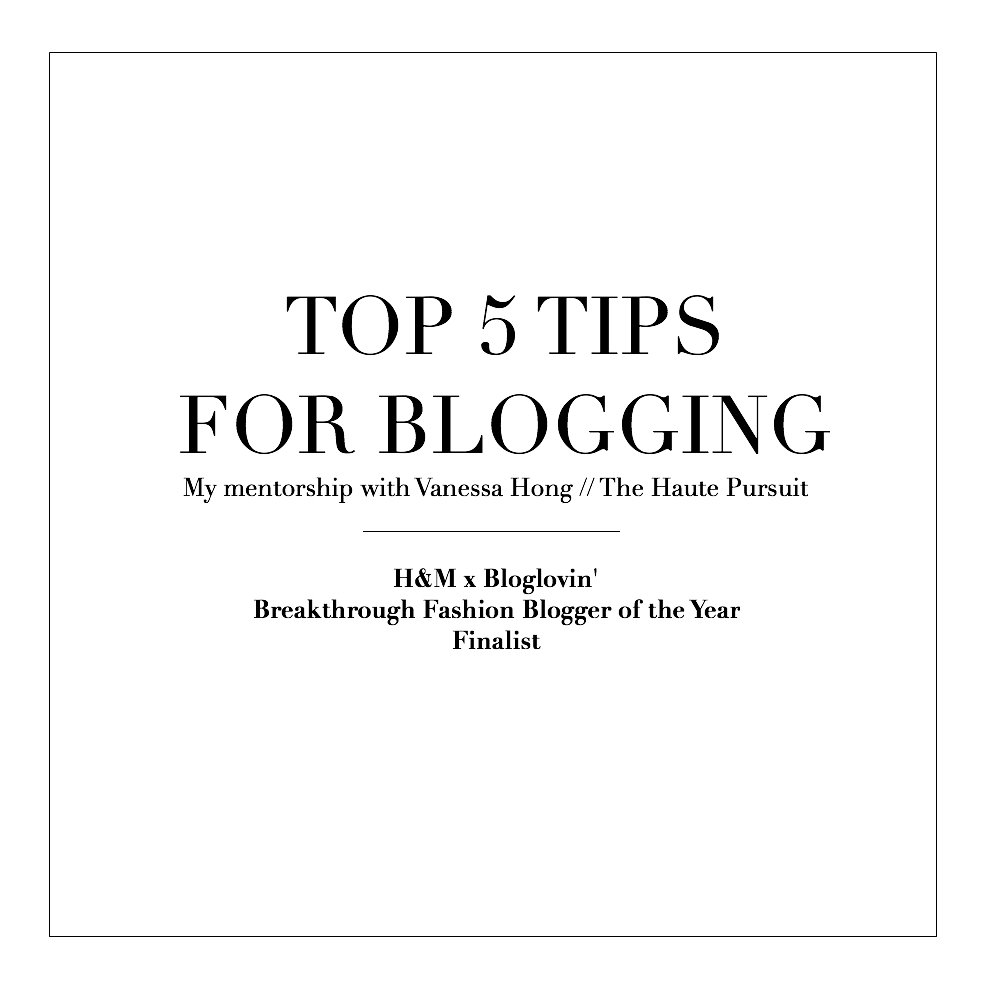 It was so crazy meeting Vanessa at our mentorship session in NYC. Not only did we look alike with our short blonde hair and minimal style (even our matching white toenail polish! haha) but I found so many similarities with our personalities! Her chill, laid back demeanor made her so relatable and her business experience gave me lots of insight on how to improve my blog and social media.  I wanted to share the 'Top 5 Tips for Blogging' that I took from our session.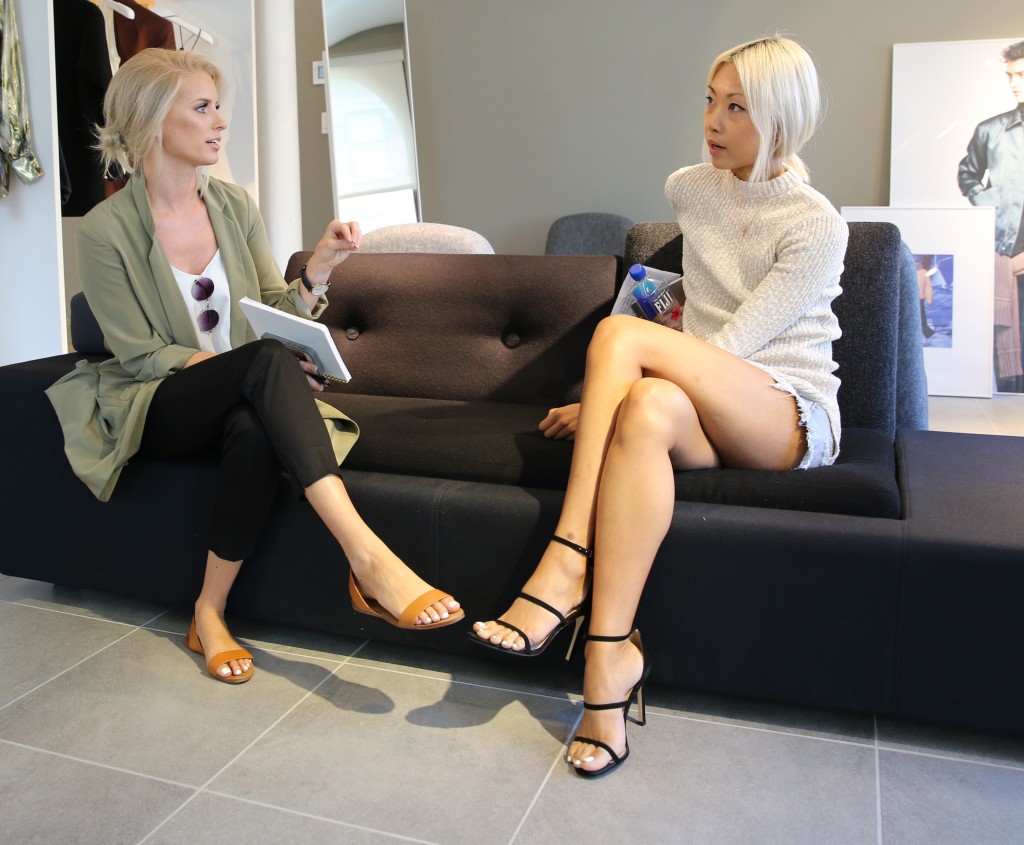 ---
1 // Fake It 'til You Make It
If you don't have a lot of money to spend, look for stores with a great return policy. Do a shoot with them while being careful not to damage the items, then send them back! If you don't have the time or can't find the place to shoot a look, make your own. I painted part of our garage and made a space to do outfit looks on the days that I'm not able to go downtown with my photographer for!
2 // Post Everyday
This one, I definitely need to work on. I have noticed it's a lot easier for me to do when I plan the post ahead of time. Mainly I'm referring to Instagram. That seems to be the most popular, relevant and convenient way for people to stay updated with bloggers. It's the place you need to post 1-3 times a day so that everyone, at some point of the day, will see one of your post. I plan one day for me to do all my outfit, filler, and flat lay posts. Then use LIPIX Pro to layout a "grid" so I can see how my Instagram feed will look and what pictures to post when. I'm telling you…it's a lot of work, but I personally like my feed to look cohesive and artsy. Unfortunately, posting a picture doesn't come easy for me while in the moment and I'm not able to just post my lunch while I'm at a restaurant :/
3 // "Quality", Not Quantity
In today's world, it's hard to get noticed. Some bloggers have hundreds of thousands of followers via Instagram and Bloglovin'. It can be overwhelming and really break you down to giving up in following your dream. But it's about that small number of loyal followings that really matter. The ones who take interest, ask questions, leave comments, support and encourage you. However, you should strive to build your following because ultimately that will be you're money maker, but it shouldn't discourage you if it takes awhile (and it will..I just reached 10K on Instagram). That will get the brands interested in collaborating with you, become your platform on building your own business, etc.
4 // Stick To Your Niche
I've read this in so many "how to build your blog" post.  But during my struggles over the Summer, trying to find how to wear my minimalist looks in the heat, I realized that staying true to the look you present is what will take you far.
Think about it. When your looks get pinned or reposted, how do you think you'll be remembered with all of the other bloggers out there? For one, it's about your specific style. Everyone represents one in particular (ex: Minimal, black and white, boho, casual, girly, punk, etc) But it goes deeper then that. How do you wear your hair in all of your looks? What are your key accessories? These are little things that can keep you memorable. "Oh, I've seen that blogger before!"
For me, I found that my platinum blonde hair and round sunglasses were not only what looked best on me and was the easiest way for me to get ready, but I think it's what keeps me memorable and what sets me a part from the other bloggers. For the most part, you won't see me in an outfit post without those things and my Olsen inspired outfits. Now, you may not figure out how to make the crown braid or fringe trend fit your style, but there's a blogger out there, who followers can see, that can. Stick to you. (I need to practice what I preach here folks!)
Here is an example of how Vanessa makes the off-the-shoulder trend work for her structured style, without it coming off as a boho style, which is not her..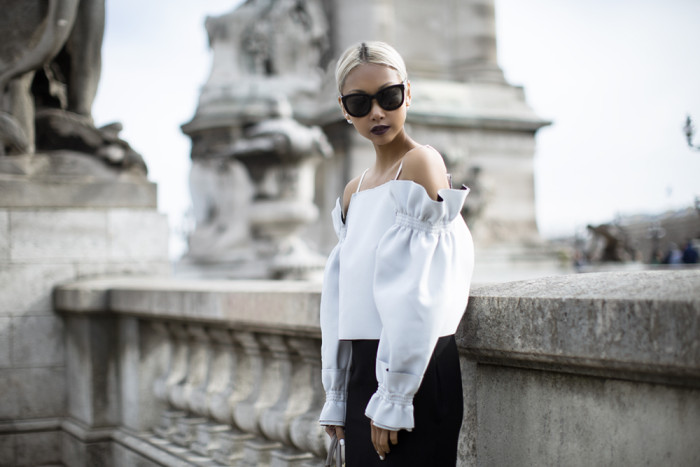 5 // You Get What You Put In.
Blogging is a job. I didn't realize this until after our session. I've been doing this for fun and on the side. Now it's gotten to be more and more work after I've seen the possibilities and opportunities that come with it. But in order to get "free clothes", take trips to go to brand pool parties and/or get invited to fashion shows, you have to put in the work to get noticed. These people aren't just going to give away things unless they see an investment. Remember, post daily. And not just about your latte art. Try to post things where you are advertising at least one product in every shot you take. Hashtag and tag the brand. That's how you get noticed, get your picture reposted, then get even more noticed from their following and getting the brands to notice you, then ultimately getting the brand to wanting to partner with you.
---
Oddly enough, I felt like every question I was about to ask, I already knew the answer to. Sometimes all it comes down to is hard work and perseverance. Sure, getting what you want can come easily with a little luck, but how you got it took work. Take for instance, me winning a finalist spot in this contest. Getting the outfit, taking the photo, being aware of the contest and then entering it, took work. It was luck that I was chosen. There were so many great candidates, I just happened to be what they were looking for at the time.
Thanks for taking the time to read this crazy long post! I can definitely ramble and be hard to follow sometimes, but I just wanted to be sure to give out all the information I took in. Sometimes you hear the same stuff over and over again until you finally here it in a way that you can understand. I wish I was told these things IN a perspective I could understand and now, I had!
Happy blogging everyone! Please feel free to comment or even email me if you have any questions 🙂
UPDATE! Voting is now live!! Click the link below to cast your vote!

Please take a moment to vote for your favorite Breakthrough Blogger of the Year! I greatly appreciate everyone's support in this and for everyone who has helped motivate me in continuing this blog. Like The Yogurt wouldn't be here without you so thank you!