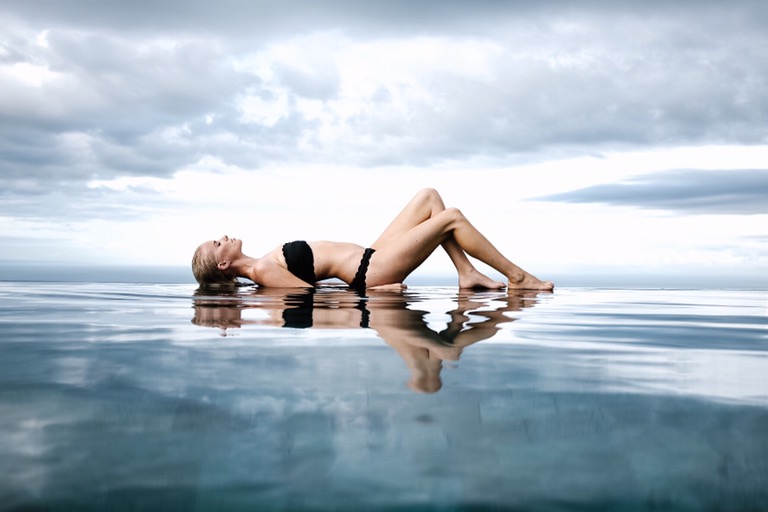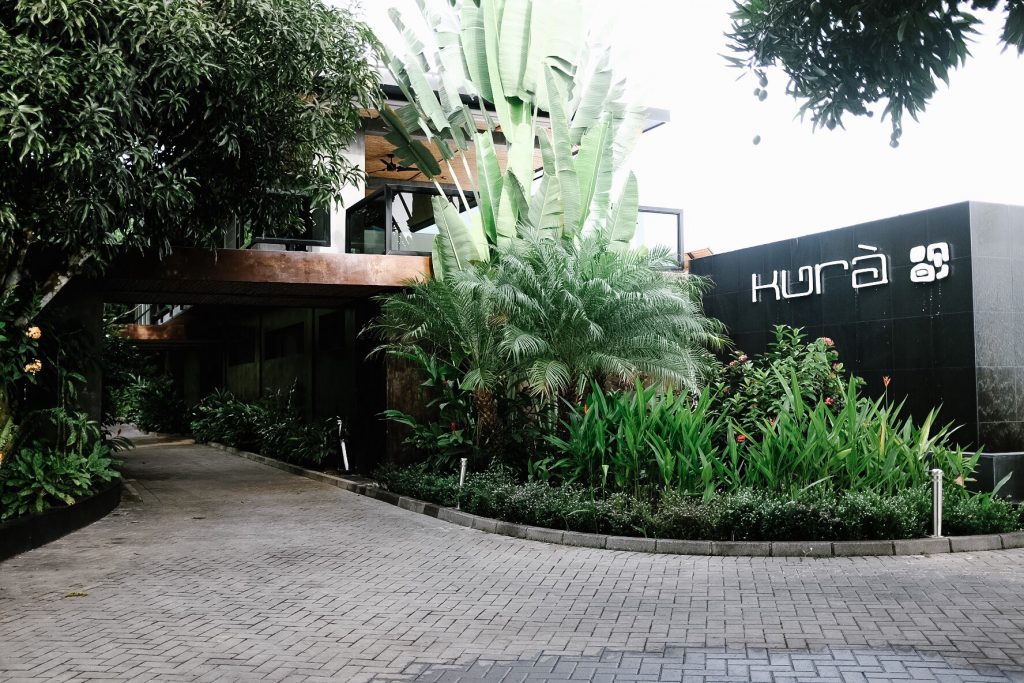 After our fun "scavenger hunt" drive up the mountain (they had their logo placed up the mountain like mile markers haha), we reached the jaw-dropping Kura Design Villas. We had an idea, but never fully imagined how spectacular this place really was going to be..
Costa Rica Featuring Kura Villas
We knew we could leave our car in Uvita and be picked up by their shuttle, but since we had a 4×4 (which is what you need to drive up the mountain), we decided to wing it. But when we got there, they took care of the parking and taking our luggage to our room!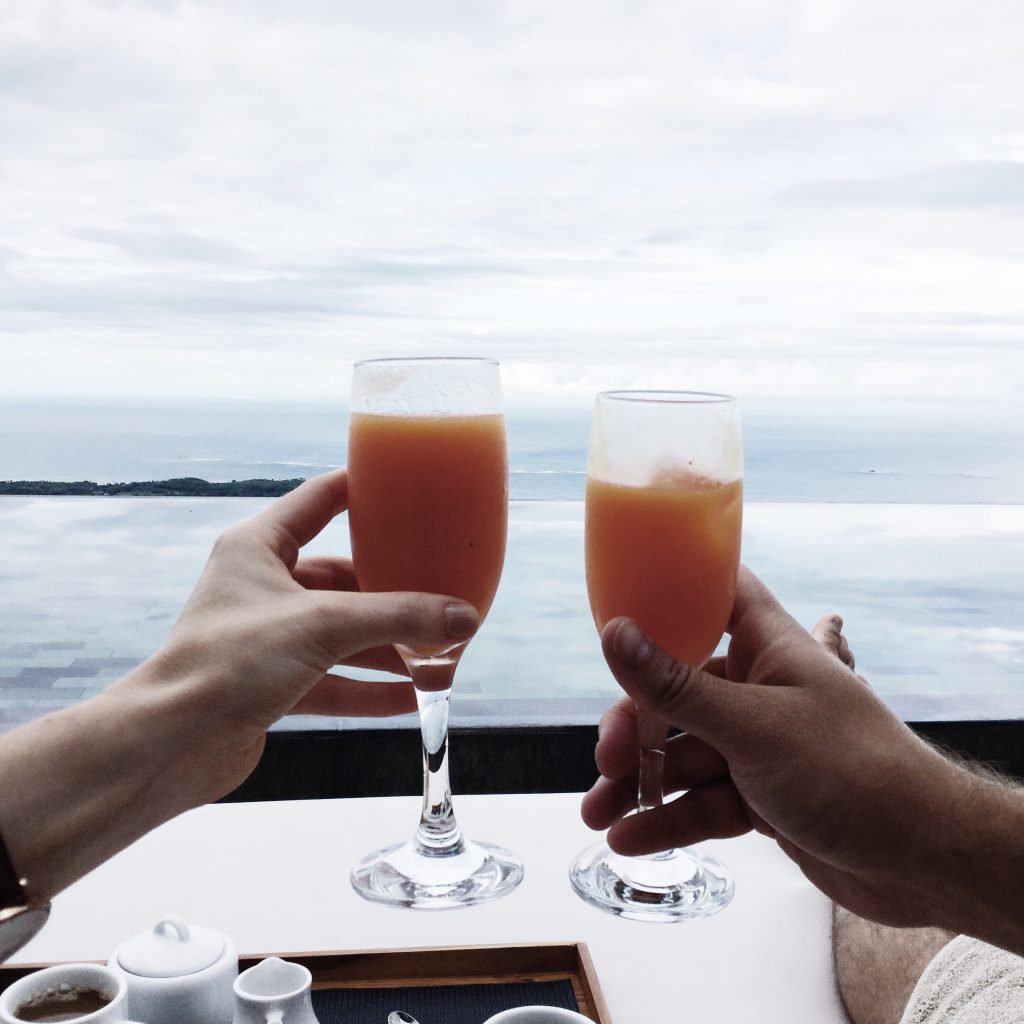 Upon arrival, we were greeted by a sweet and friendly staff member, Adam, who welcomed us with a drink and walked us through the hotel. Not only was that a sweet surprise, but then he sat us down and gave us the history of the area and hotel!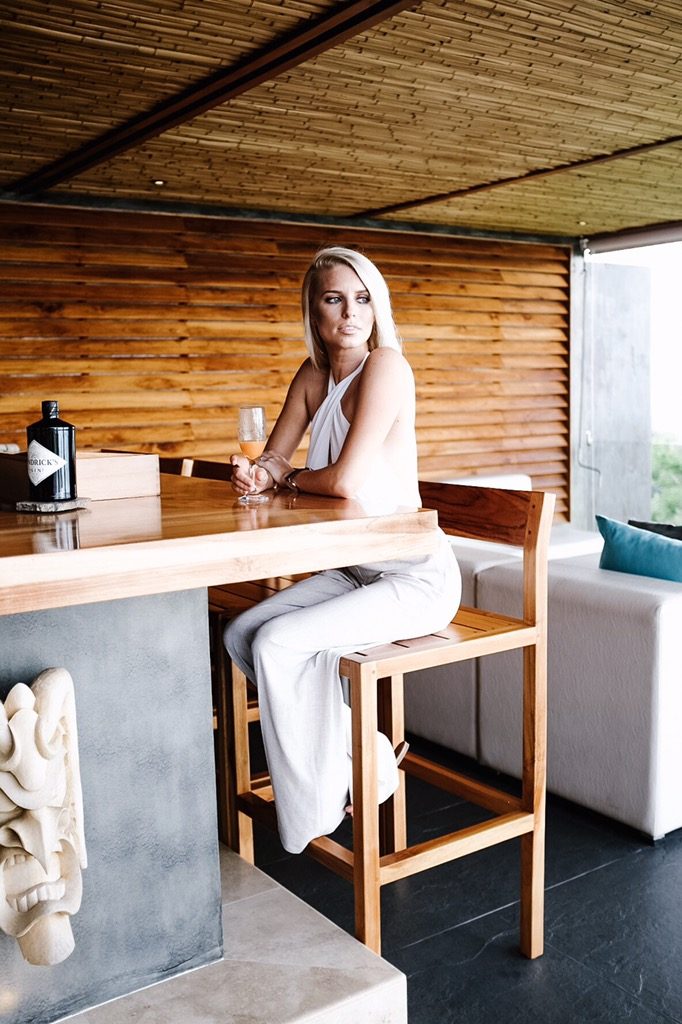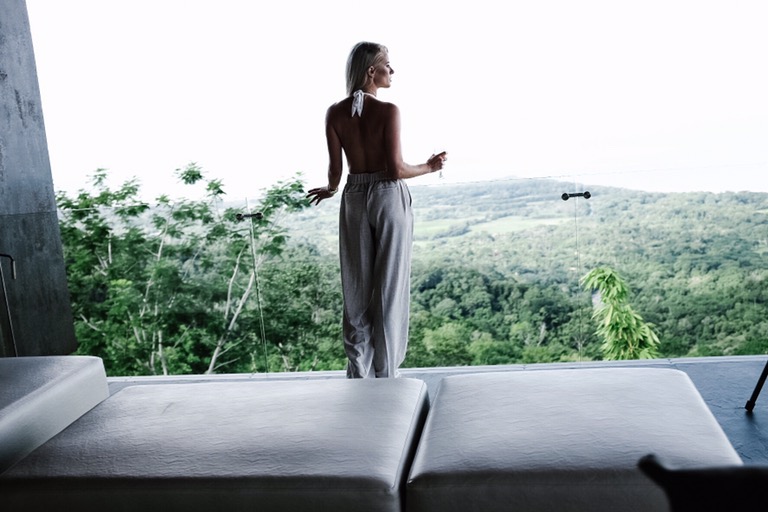 Then we went to our villa…jaw-dropping I tell you!!!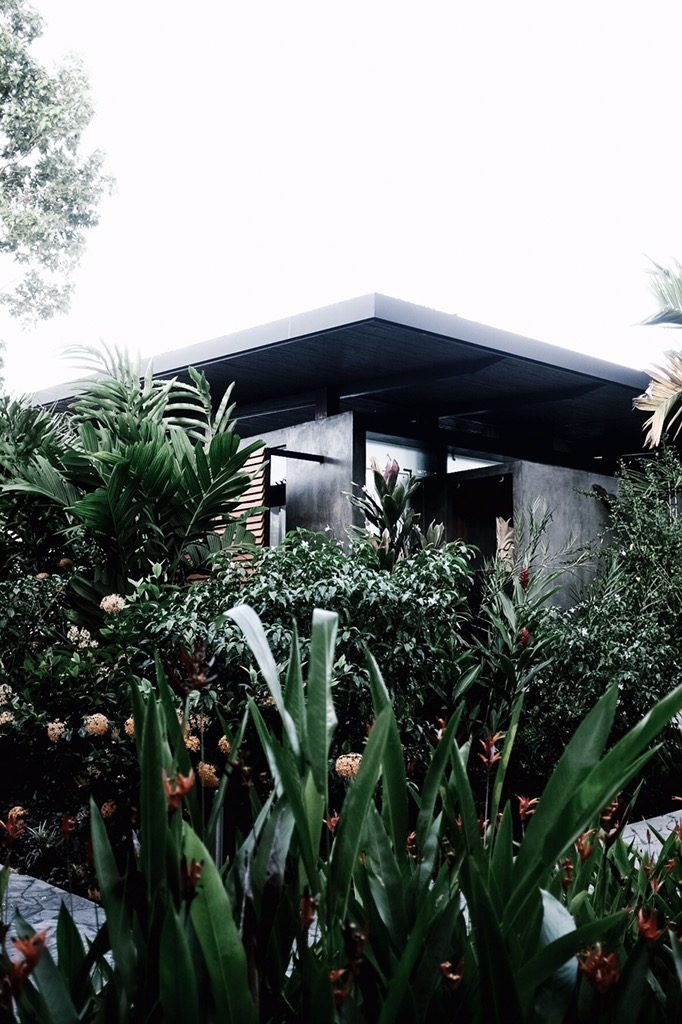 I loved the cement, teak and glass elements of this place; the design was breathtaking! I'll definitely be considering them for any interior decorating ideas in the future lol
And the bed!!! Guys, I took a picture of the pillow labels, because the bedding was so soft!! Surprise number 2: every time you left your room, you'd come back to a clean one..(I know right?!)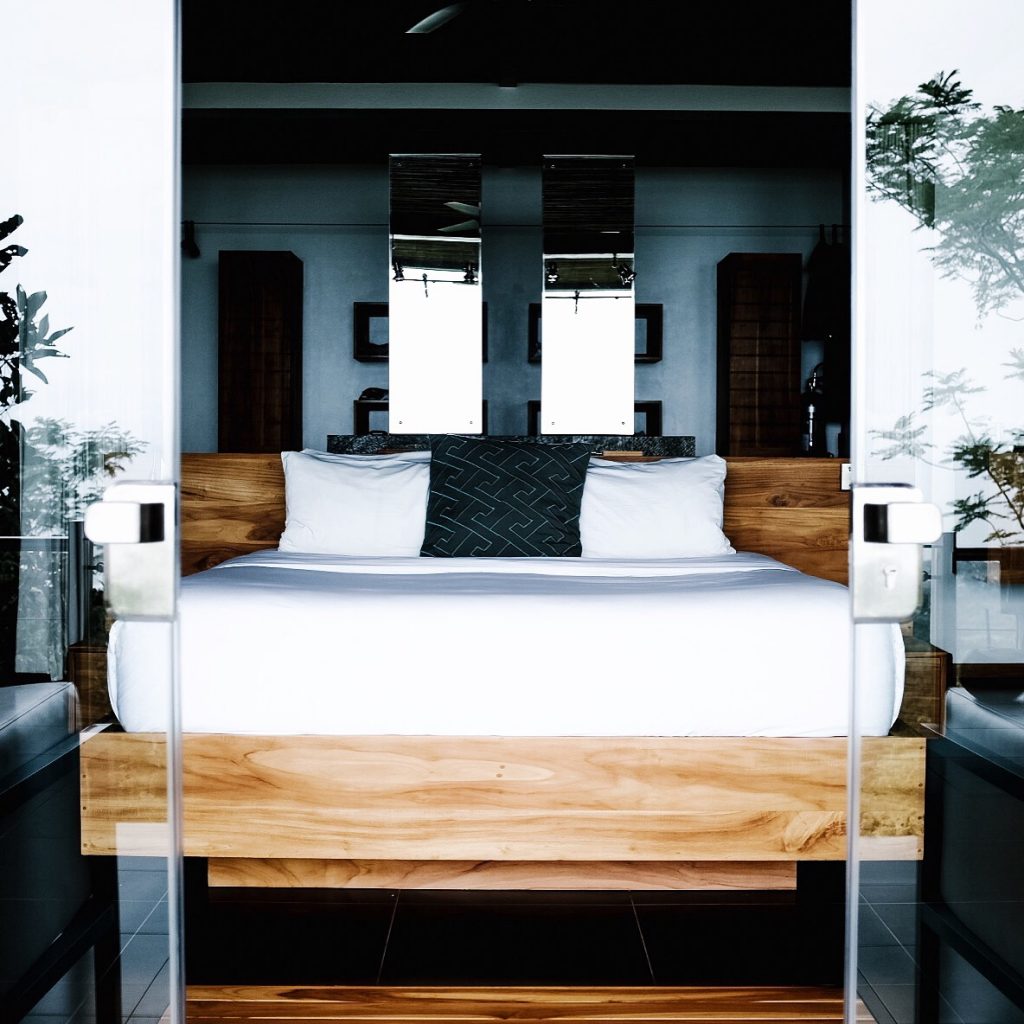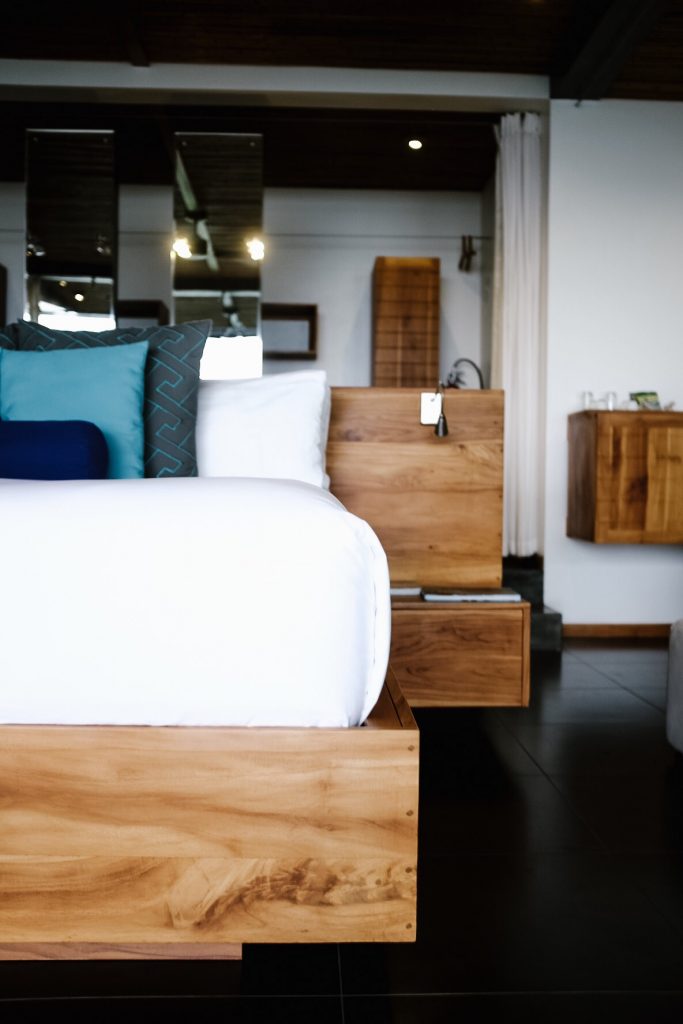 The balcony..the view..I never wanted to leave!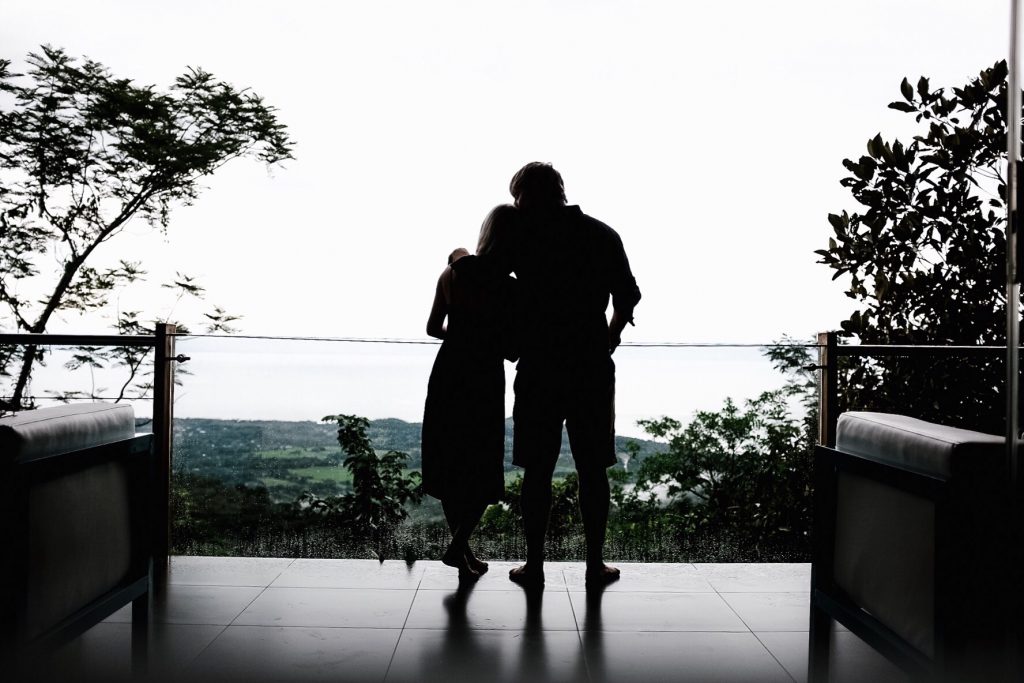 Their food was so fresh! There's something about eating olives and cheese, while drinking wine and enjoying the view..I'm sure that's what a lot of people do, but it's one of our favorite parts of vacations and we do it every trip! lol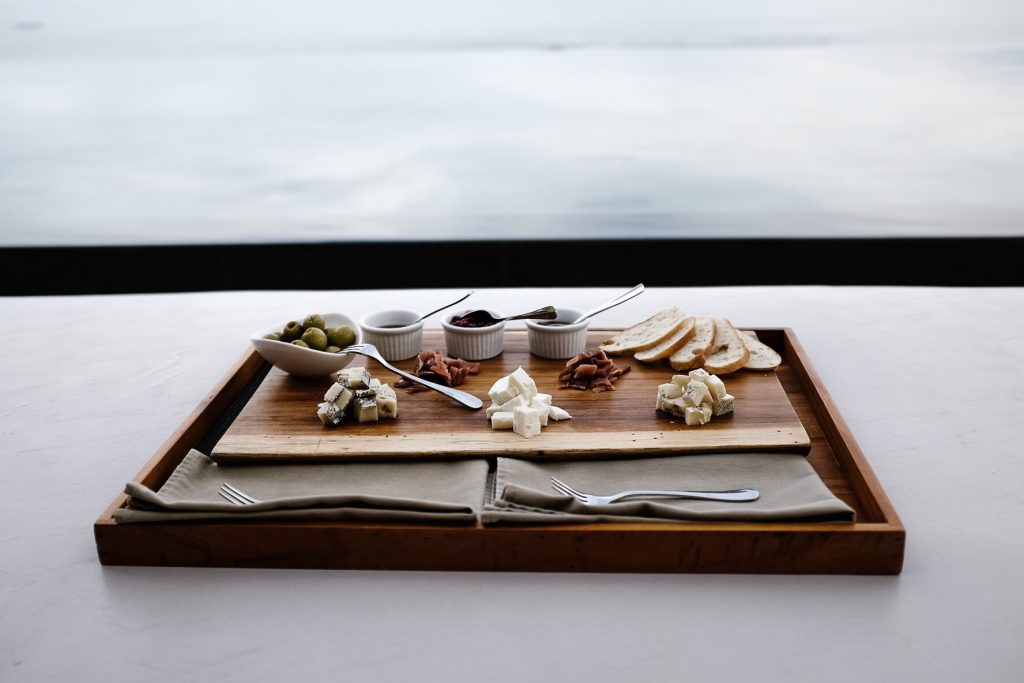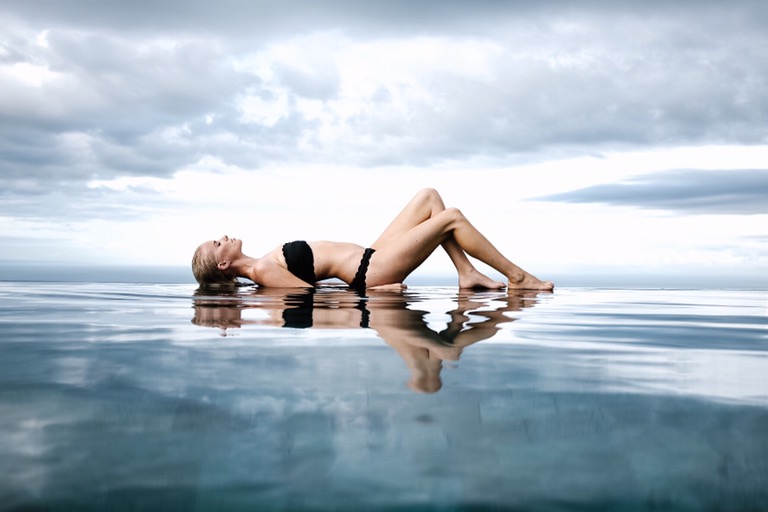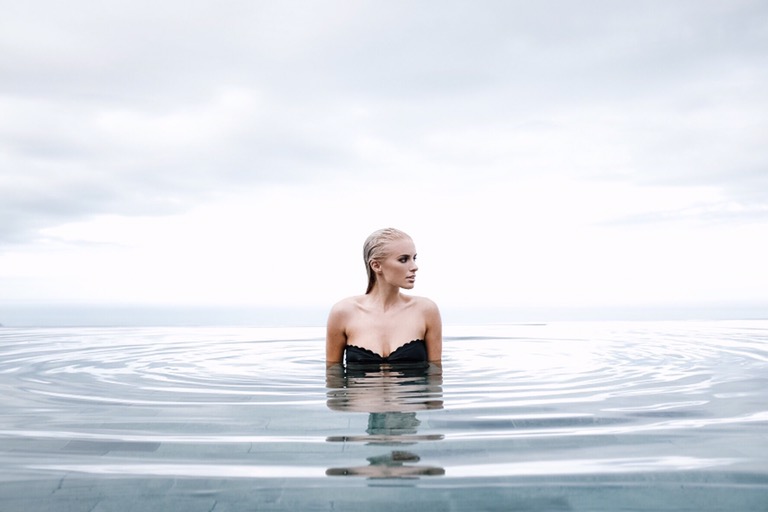 The pool area was incredible! It was a perfect temperature at all times and what was even better was that it never closed!
I loved their idea for the lounge chairs. The cushions were actually a type of vinyl, which I'm sure is easier to clean and repels water! (Just another thing I'll be copying for the house-can't believe I wasted money on "waterproof" outdoor fabric..)
This place had a 360 view though-there was a site to see in every direction that you looked! And I loved the floating stairs everywhere!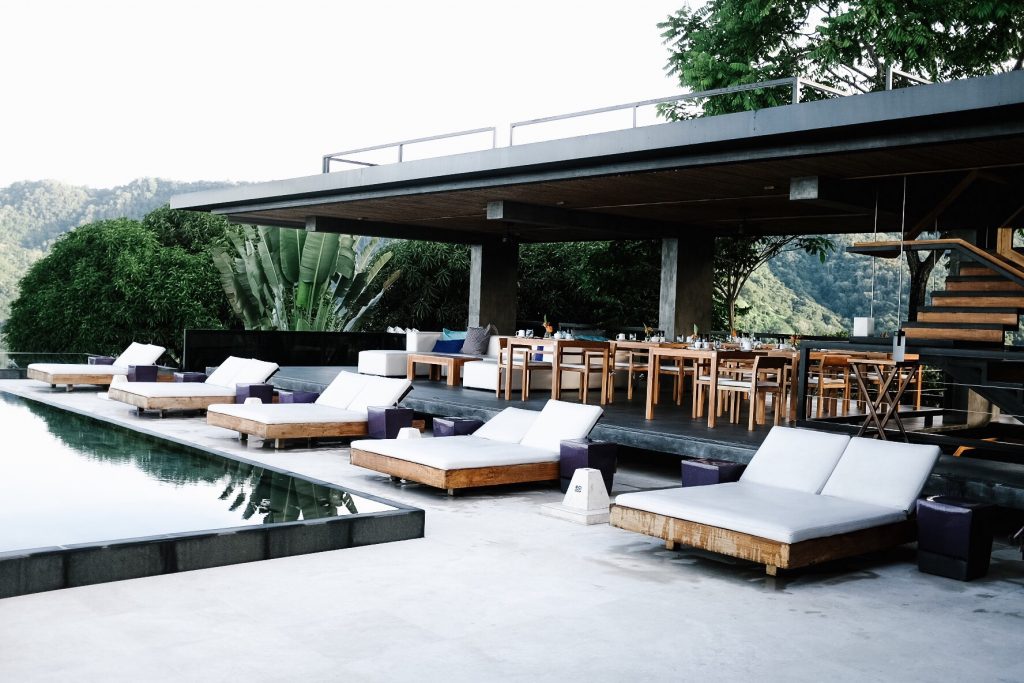 Thanks to Myra Swimwear for the swimsuits during my trip! I couldn't believe how soft these suits were!! This Hendrix tie-up one piece, paired with high waist denim shorts, was perfect for a walk through the rainforest and waterfall adventure!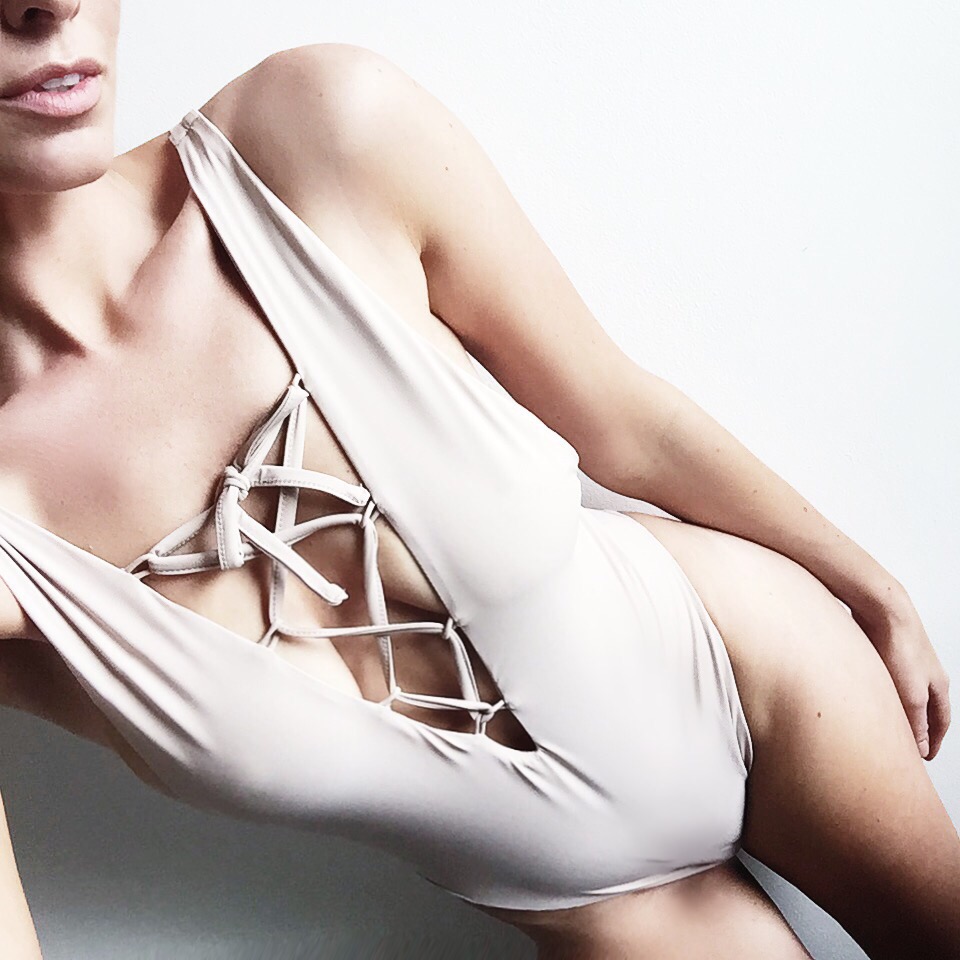 Since we wanted to stay close to the hotel and visit a waterfall we could jump off of, we chose Catarata!
The shuttle dropped us off and to our surprise (they just kept coming folks lol) we didn't even have to walk 5 minutes to reach the waterfall! And luckily we got there early enough to beat the crowd! We were able to slide down the waterfall and everything…at our own pace ;P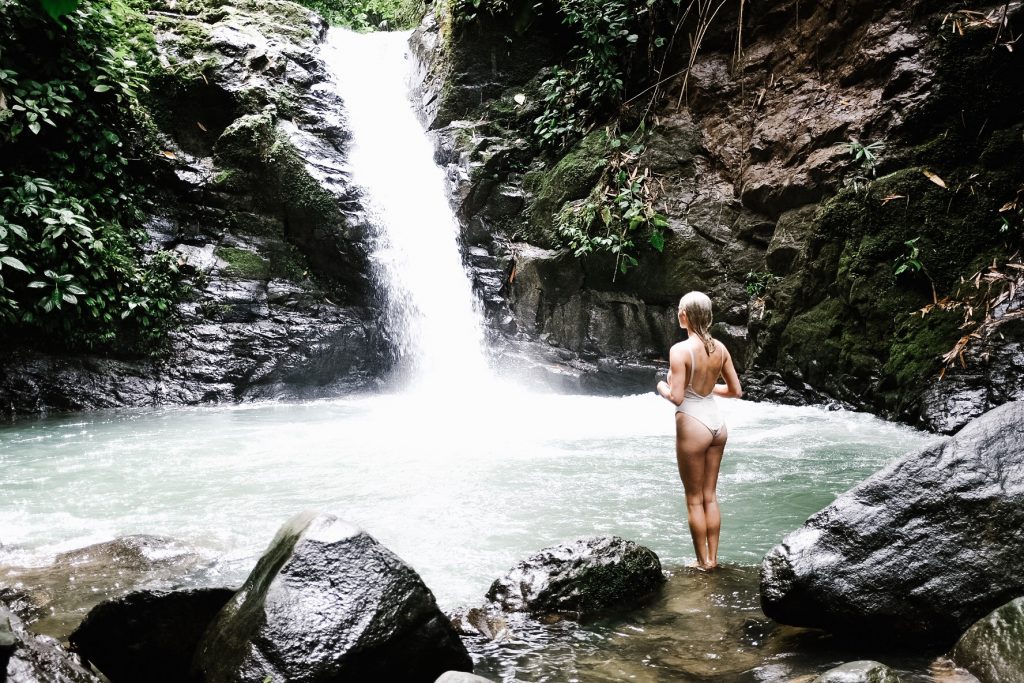 And then we had an amazing lunch at the resturaunt right at our pick-up location. The shrimp tacos were so good and we got our food so quick!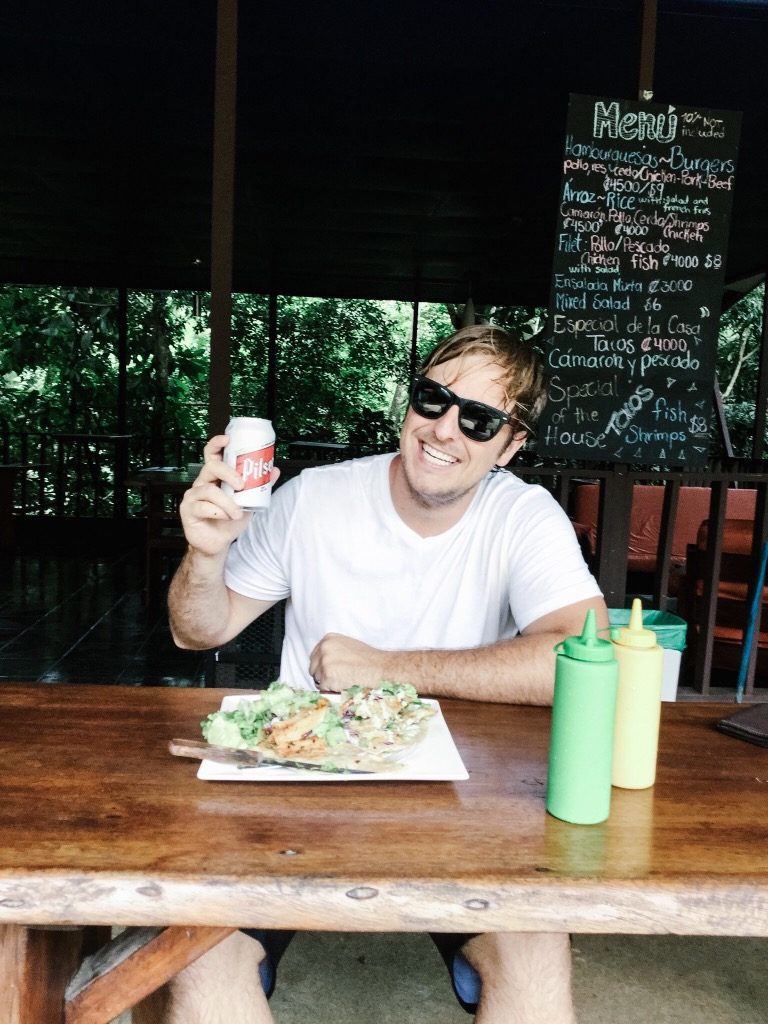 When we got back to the hotel, Adam greeted us again with coconut waters!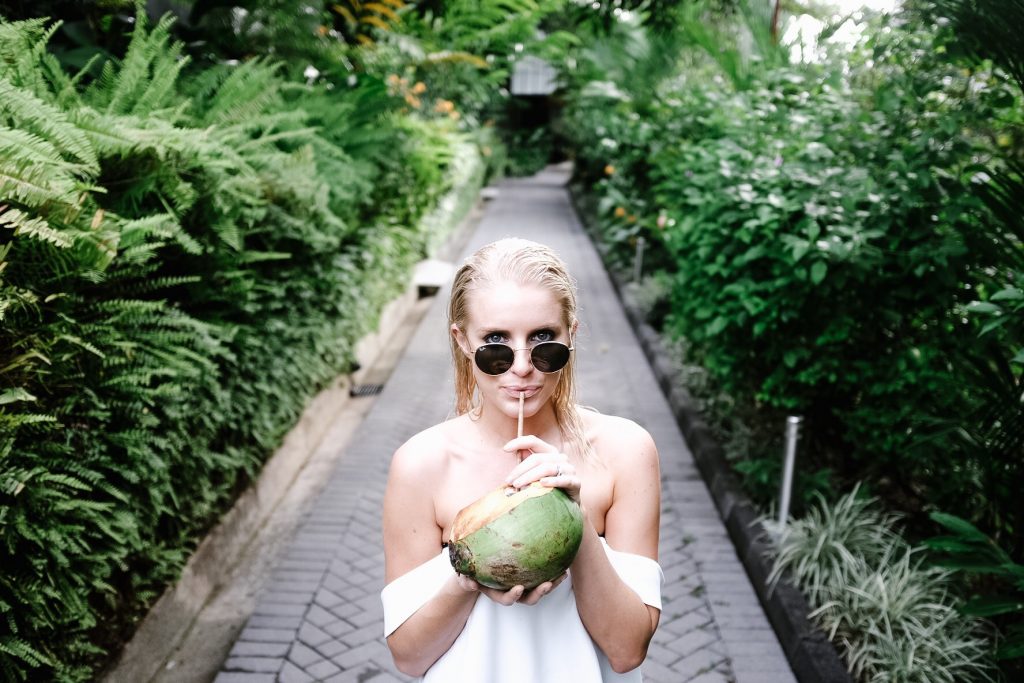 There shower is the best experience ever!! And the hotel leaves you bath robes in your room! And wine..and wine glasses…and a wine opener..alright, I think we get it, Kura is the best hotel ever!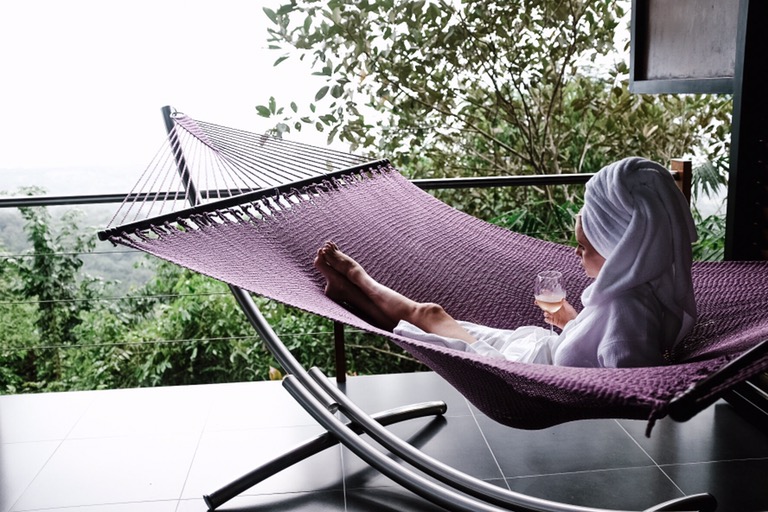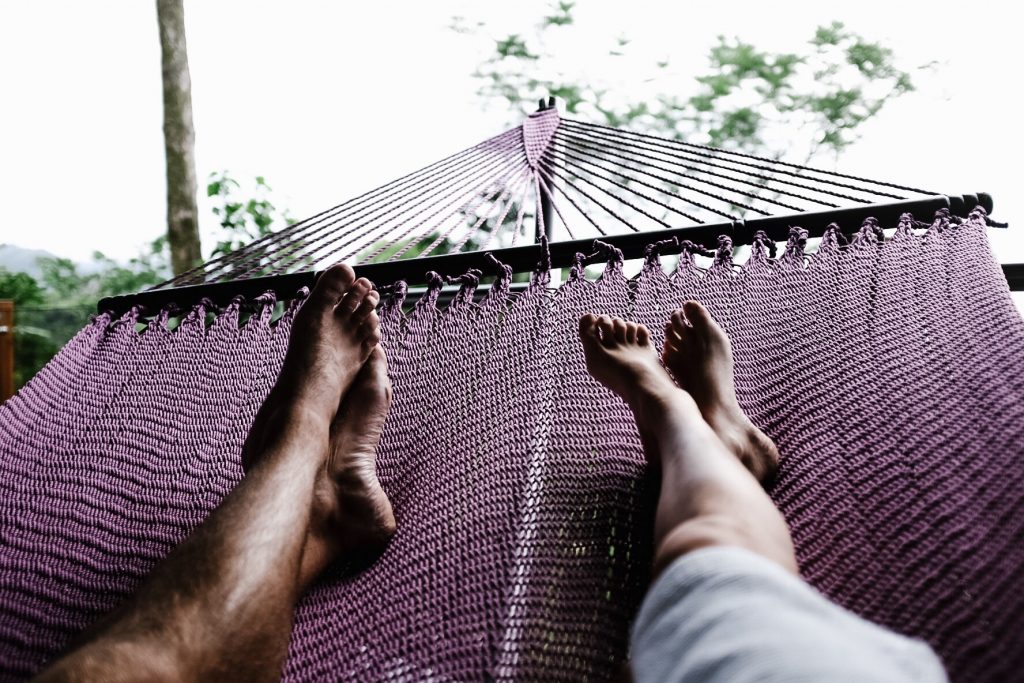 Next, we got ready for my birthday dinner 😉 I'm wearing an old favorite dress by Cmeo Collective!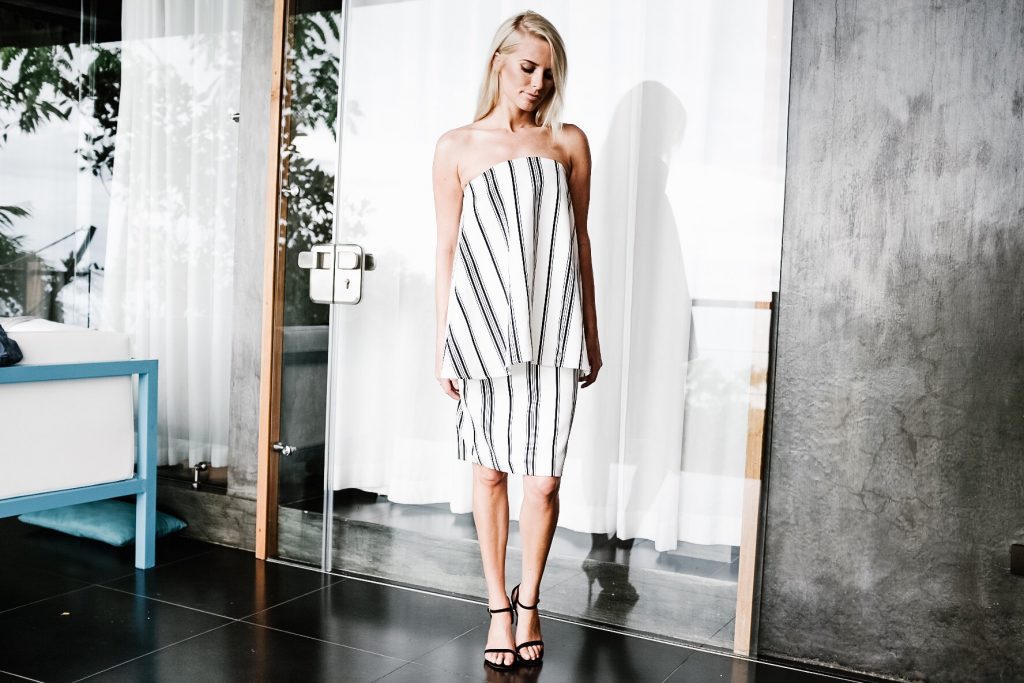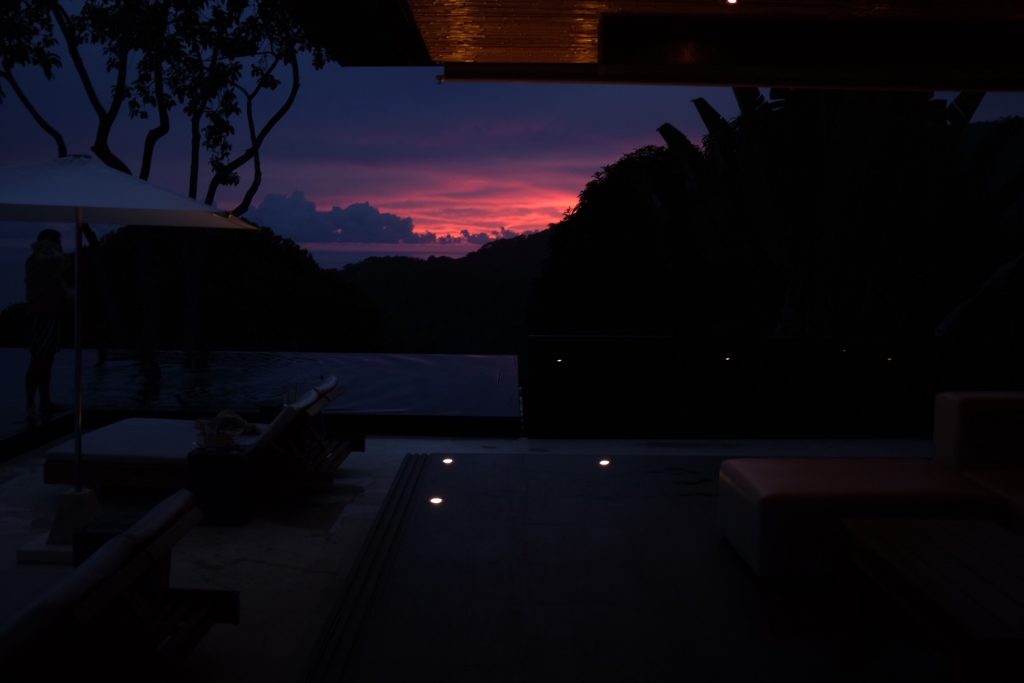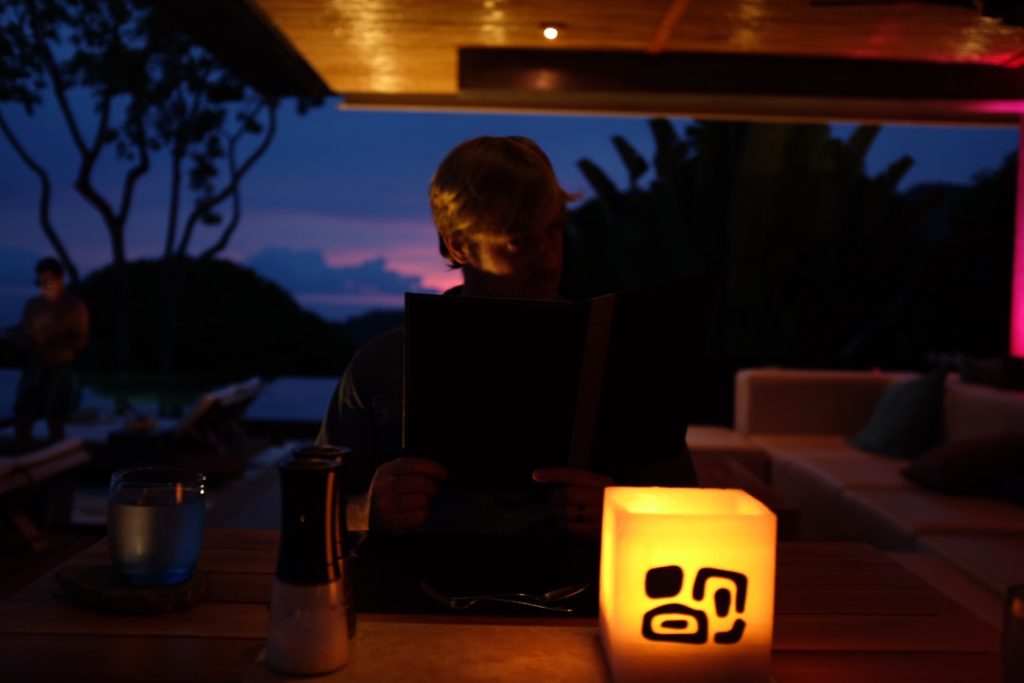 We started the night off right with a perfect view of the sunset! Josh had the filet and I  had the panko crusted chicken. It was delicious! And we had no idea what was about to be in store next..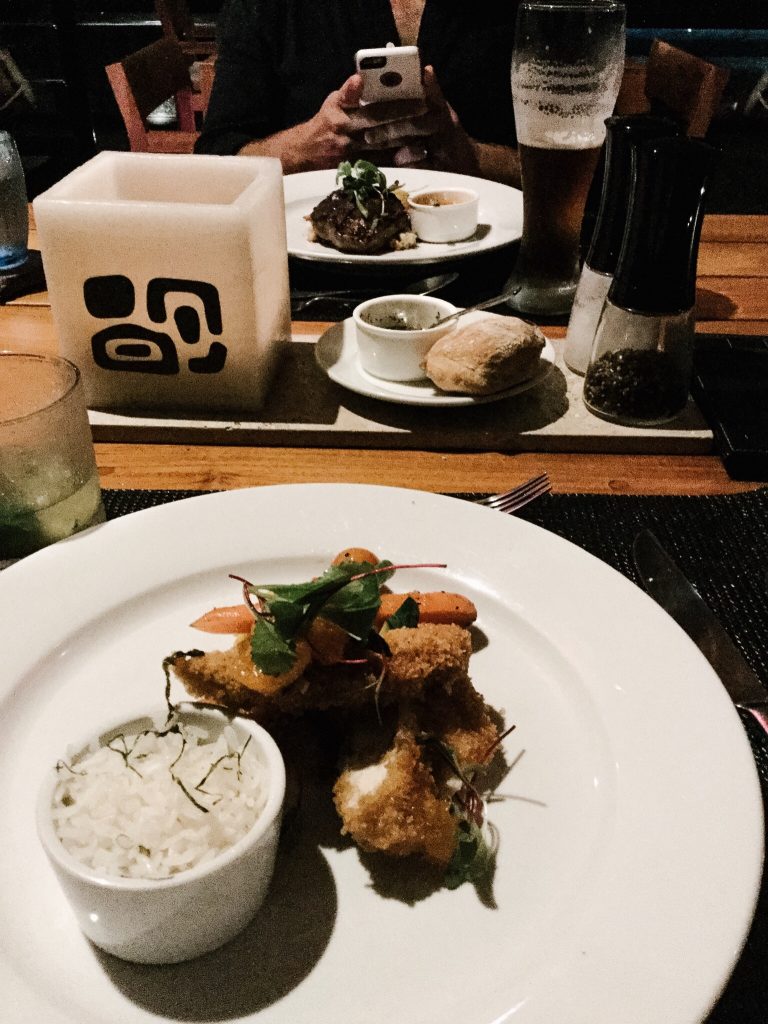 After dinner, our server Jay told us we had a surprise waiting for us in the spa!! I love surprises and when I walked into the spa to find a bathtub drawn and a chocolate lava cake waiting to be devoured..I knew I was in heaven!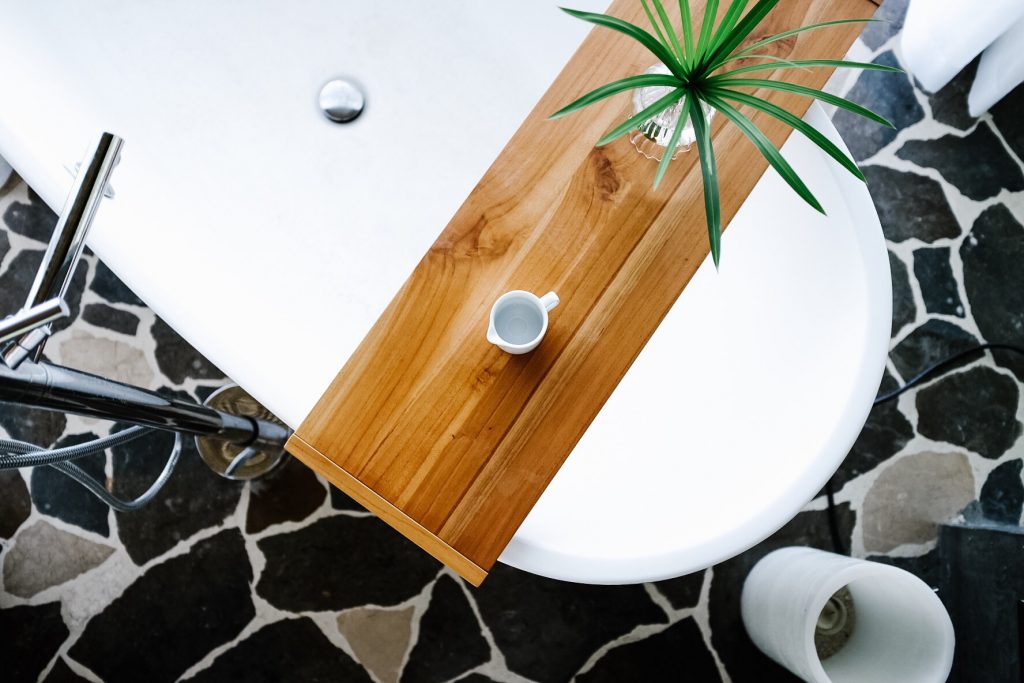 And can I just say (if it isn't too much information..personal or to read lol), but something about Kura was so romantic..we didn't even realize until the end how passionate it made us! Josh and I felt more in love here then on our honeymoon in Paris if you can believe it!! Kura just made you feel at ease..you didn't feel like you were on a schedule and they made every opportunity to just be in the moment, relax and enjoy each others company happen. That was the biggest surprise they gave us by far and I'm so thankful for that!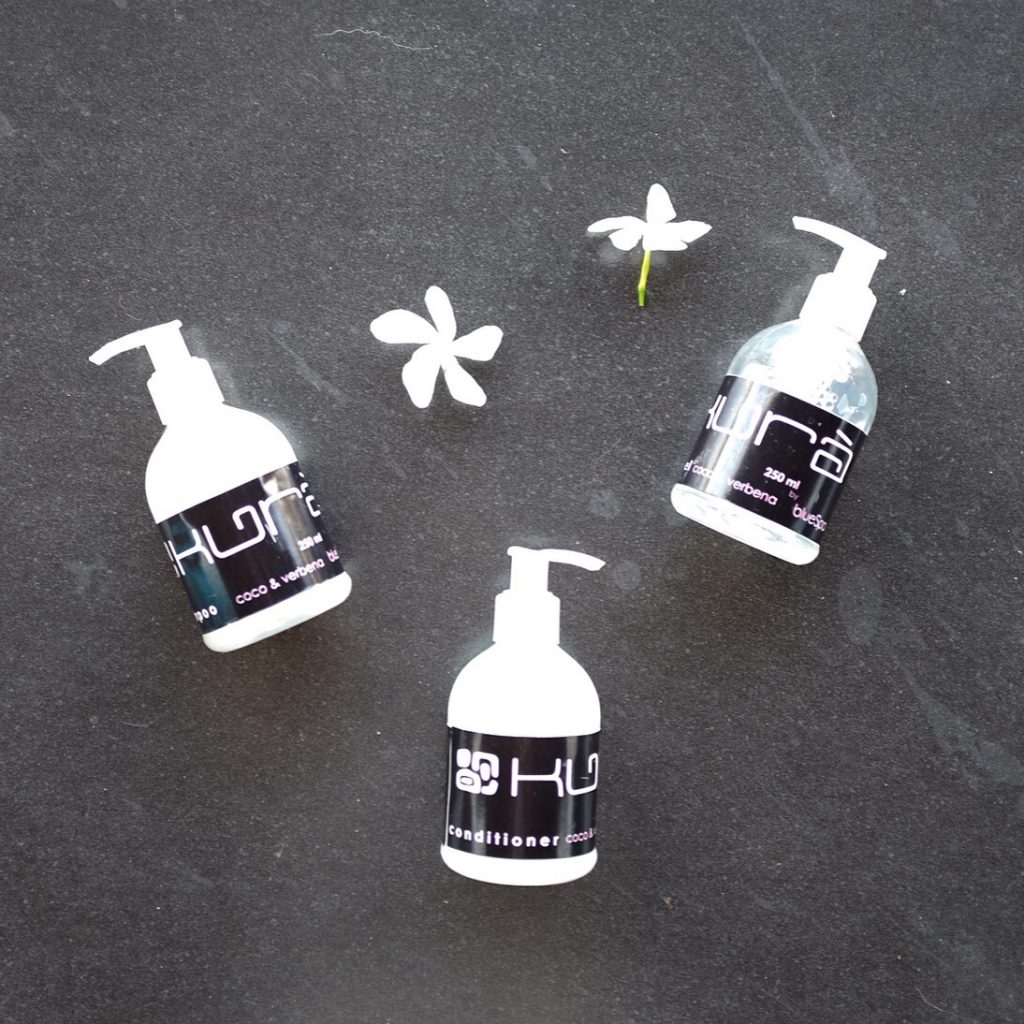 (I've never liked hotel shampoo/condition, but this stuff..I wanted to take it back with me!! My hair was so soft and smelt like coconut the entire time!)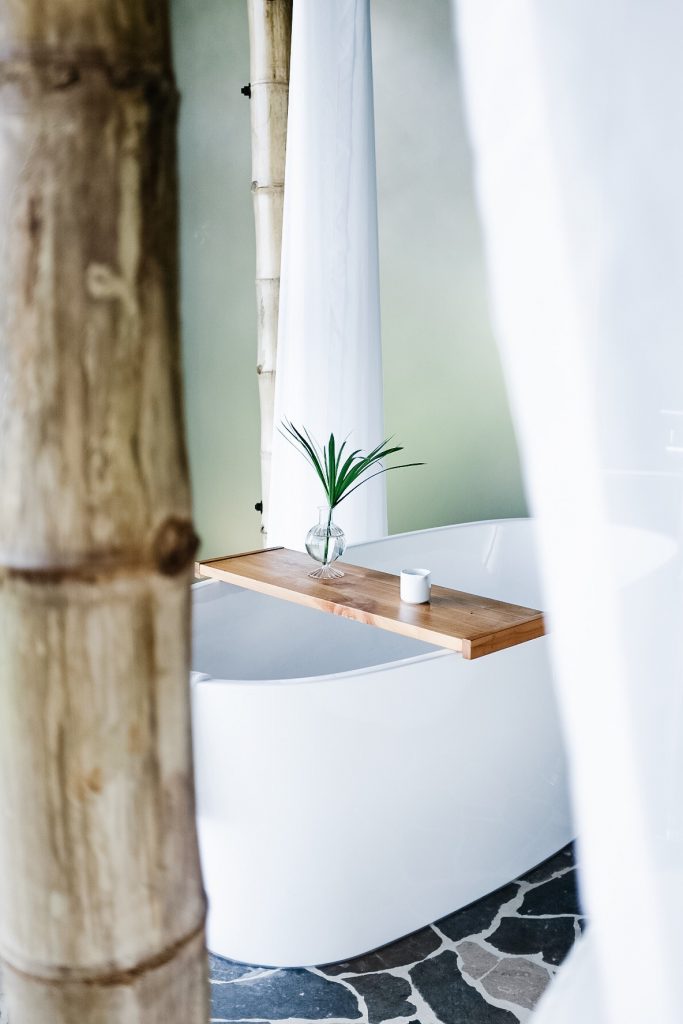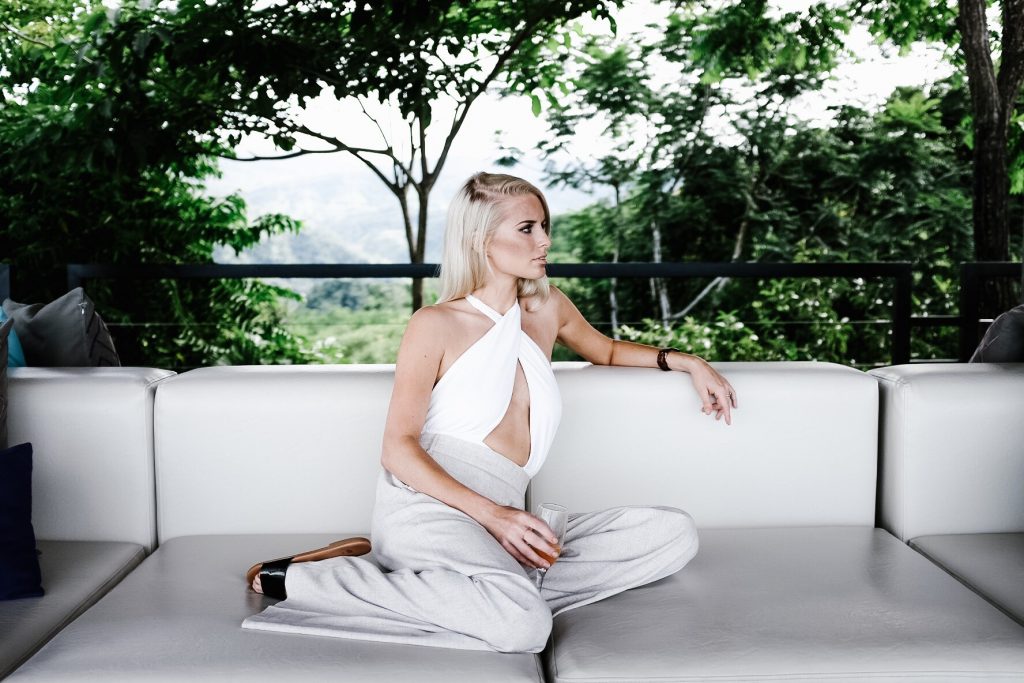 There were so many wonderful surprises, including coffee being brought to us every time we came into the "lounge" area- we didn't even have to ask!! I'm telling you guys, they thought of everything!!!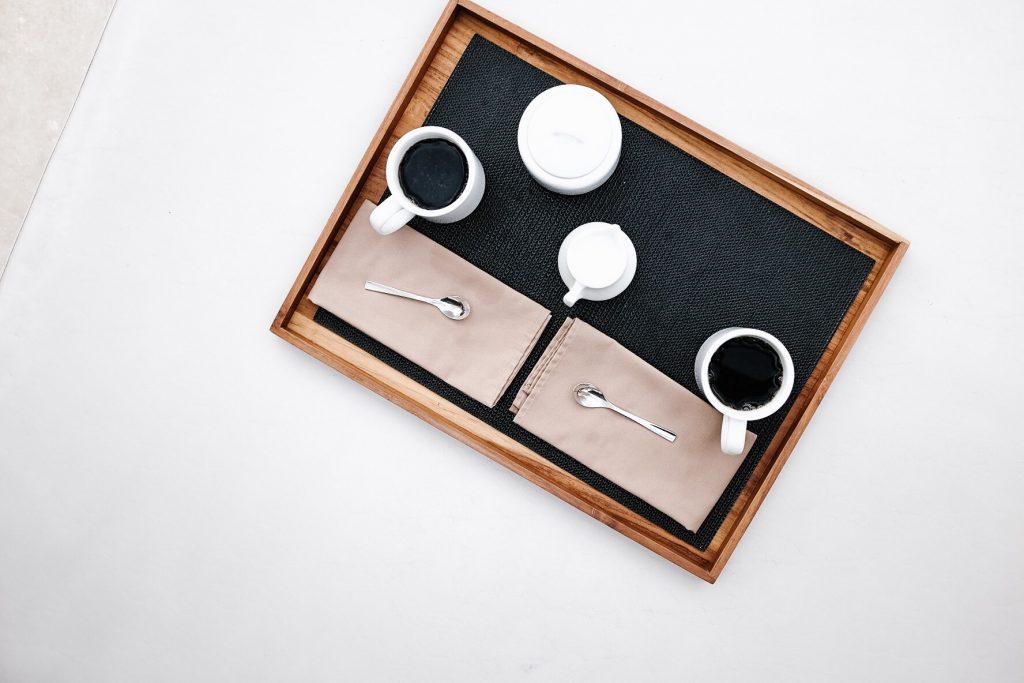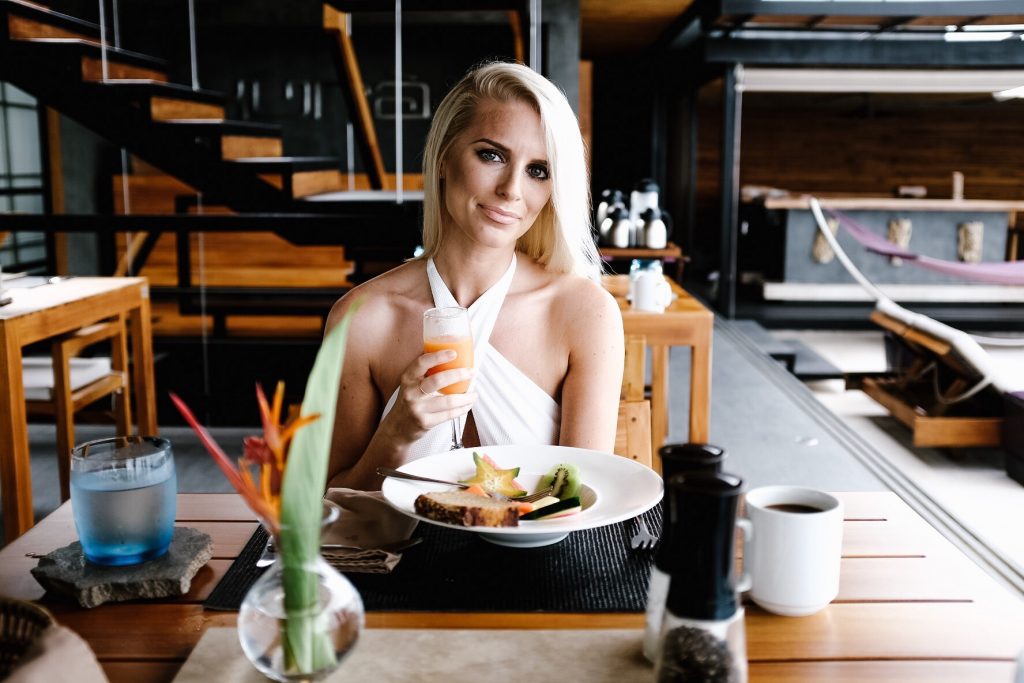 Enjoying our last breakfast before heading out. They served a variety of fresh fruit and warm banana bread (which was so tasty!) The breakfast burrito and eggs benedict were my favorite!
If you are ever traveling to Costa Rica, think of no other place to stay. This really was the highlight of our trip and we were so gracious to be able to stay at Kura Villas. You won't get better service than this! Just be prepared, your hotel experiences will never be as good as theirs-they definitely raise the bar in my opinion!
---
---
After we left Uvita, we drove back up the coast to stay in La Fortuna, where we zip lined, tubbed down a river and hiked in the rainforest! I was so bummed I didn't see any animals since part of the reason for going to Costa Rica was to get the full jungle experience!
But I was told the best place to see monkeys, toucans, etc is at the Manuel Antonio Park! We were there for our beach day, but didn't even think to walk through the trail since we were doing that stuff in La Fortuna 🙁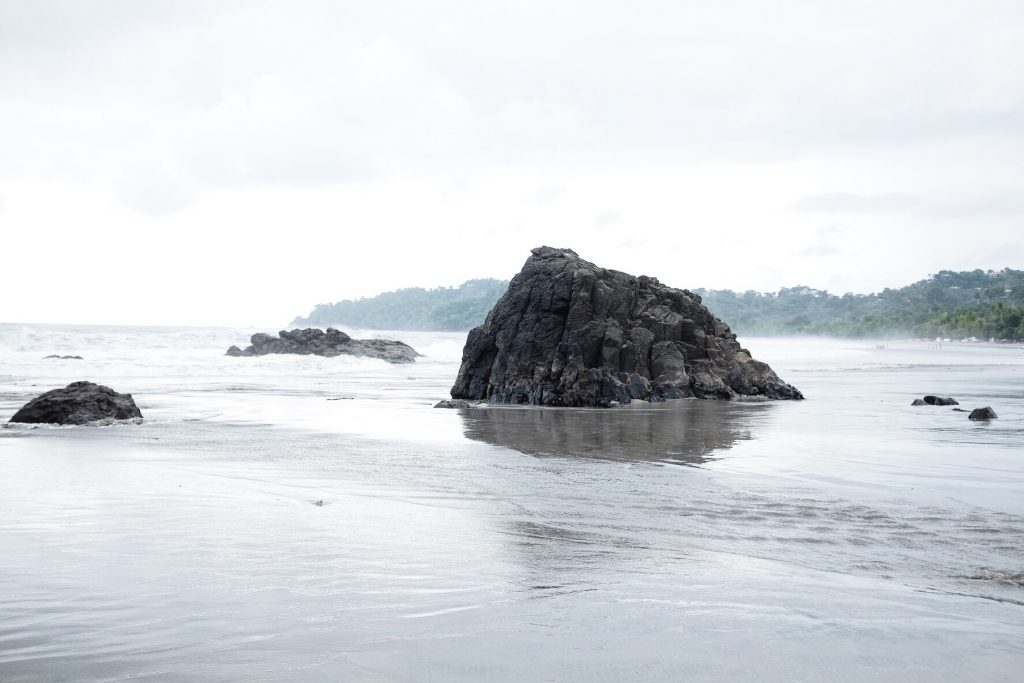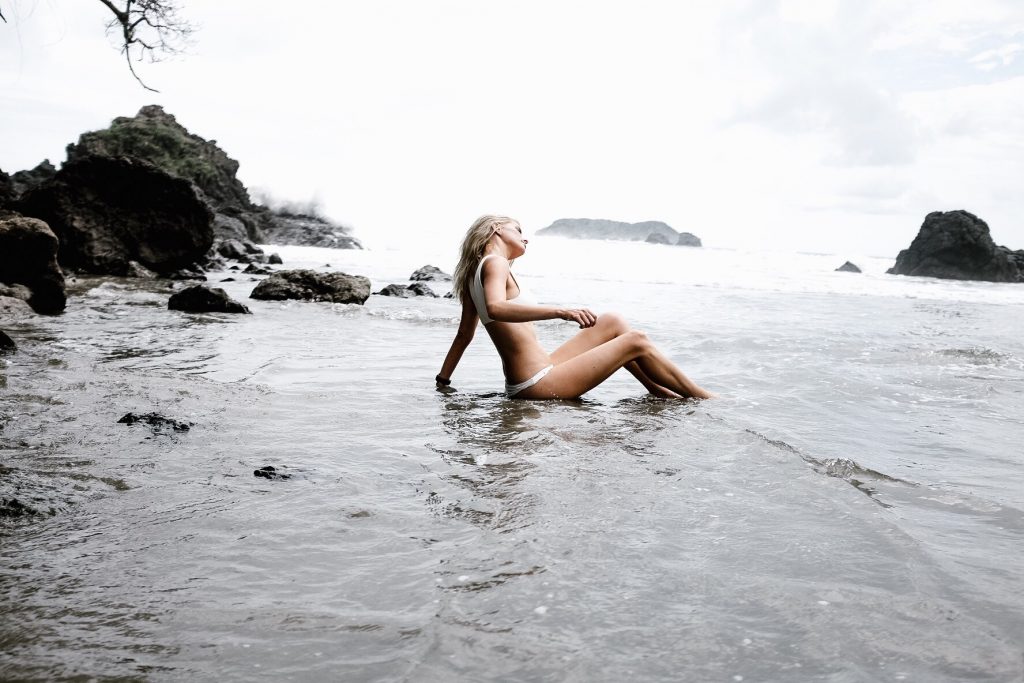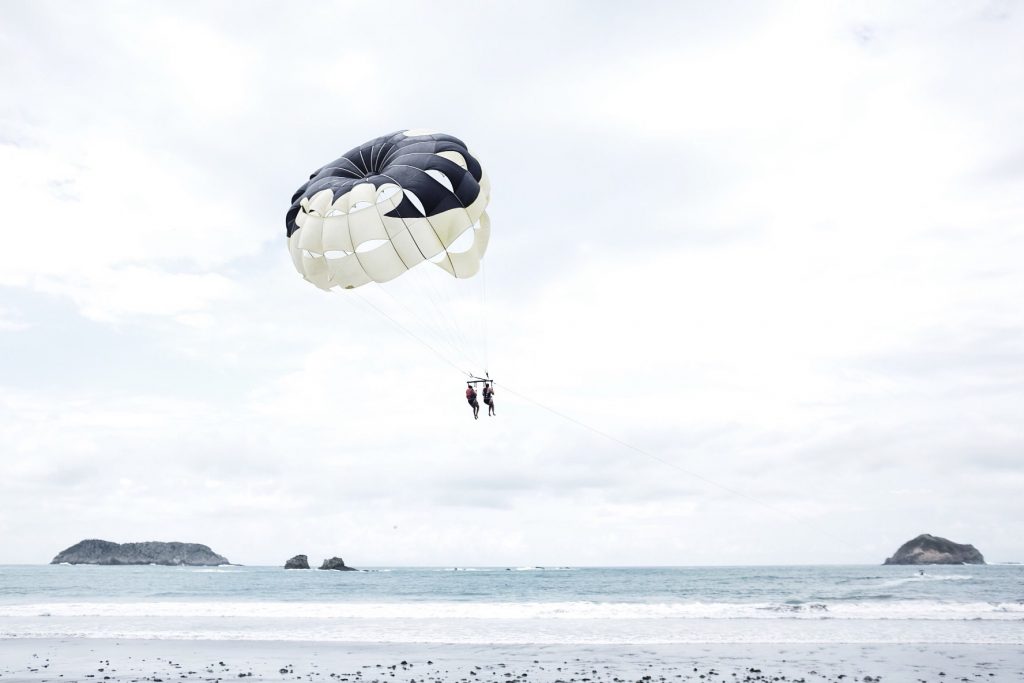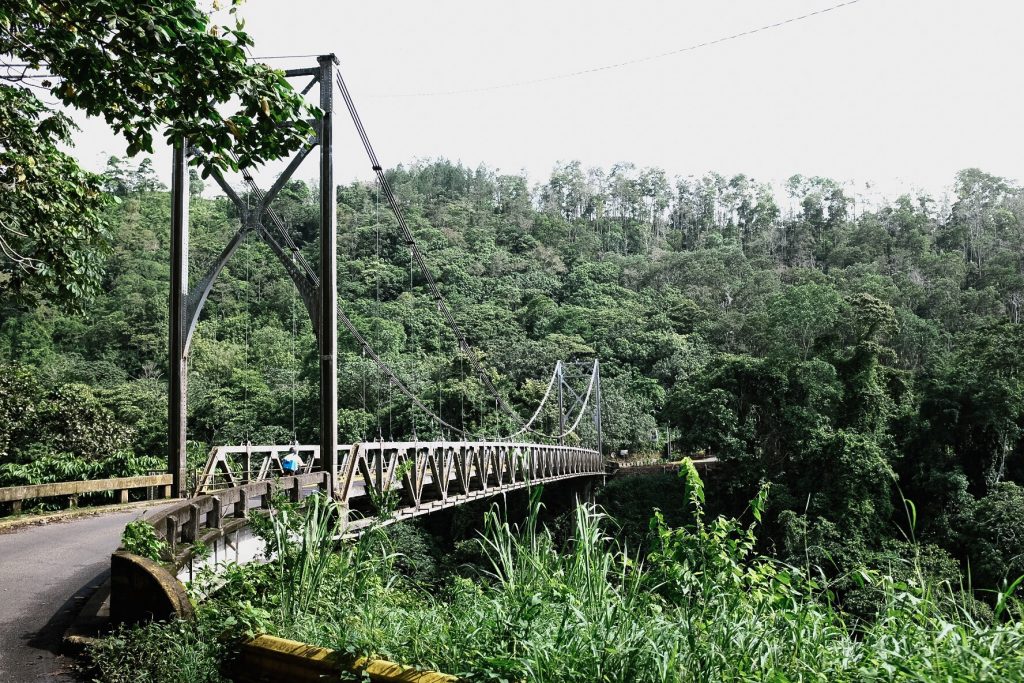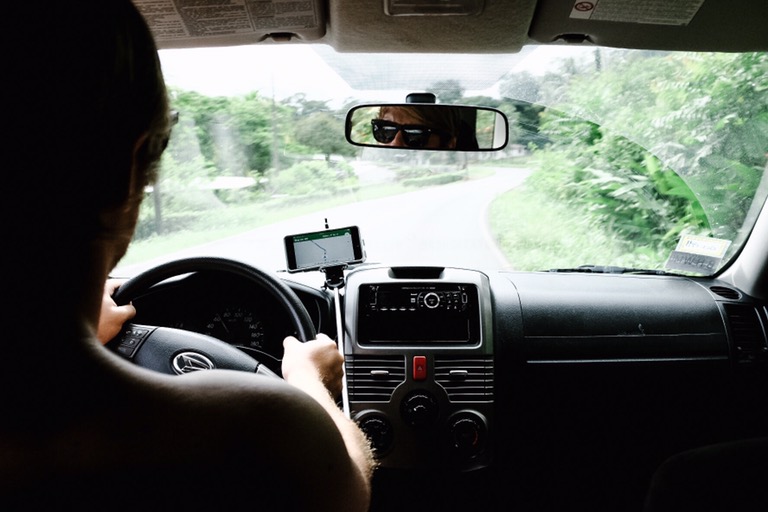 I definitely have a nerd side, and another one of the reasons for going to Costa Rica was because that's where Jurassic Park was "based" from haha Notice me looking out into the distance at Isla Nublar…which, even though fiction, there is an island called Cocos 😀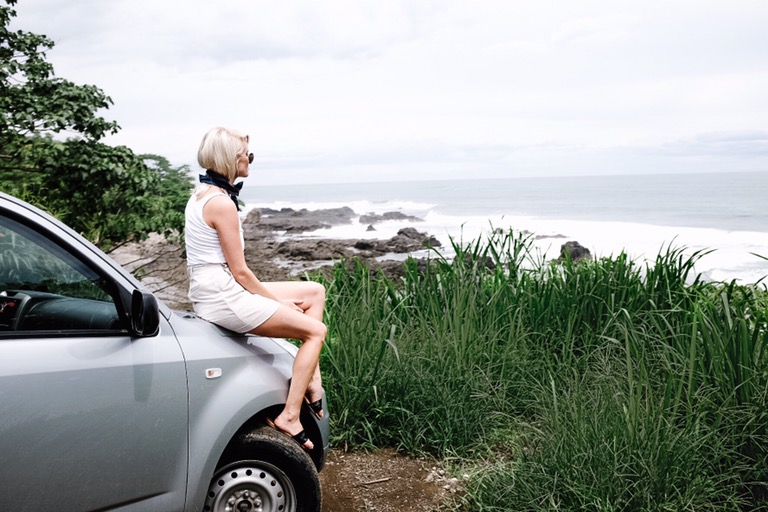 We stopped in Jaco for lunch at the Tacobar and the food was so good-definitely recommend it! And I got to swing while eating my meal 🙂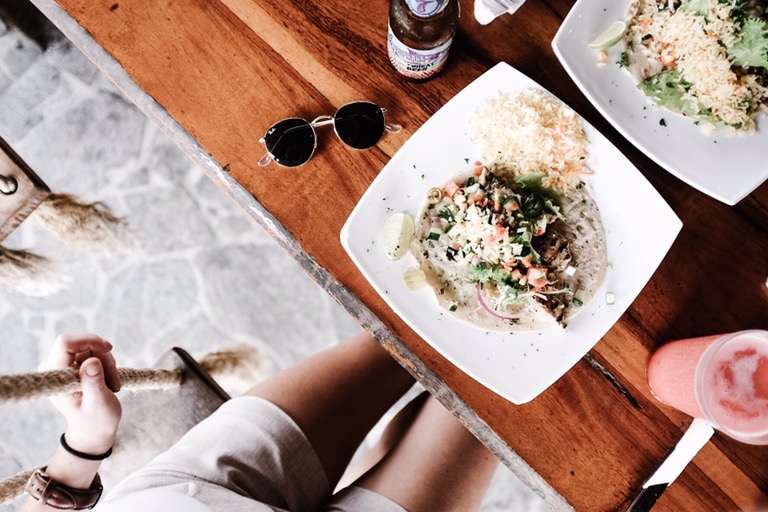 Sky Adventures-the number one place to zip line in Costa Rica! We purchased our tickets earlier for the Sky River Drift and this place was legit. I felt safe and in good hands haha
We booked the first appointment in the morning, which was nice since it was only us with the 2 instructors, but I noticed the tours for all the other parks were at the same time, so that's something to consider when booking.  You also got a nice view of the volcano as well as a delicious meal!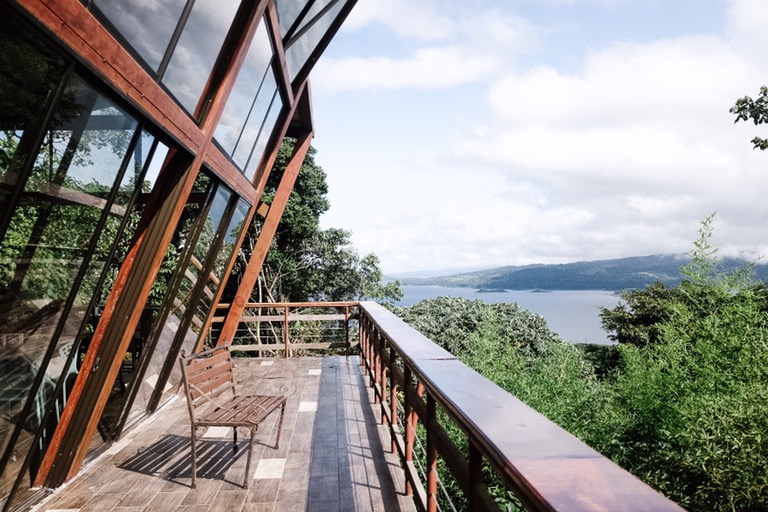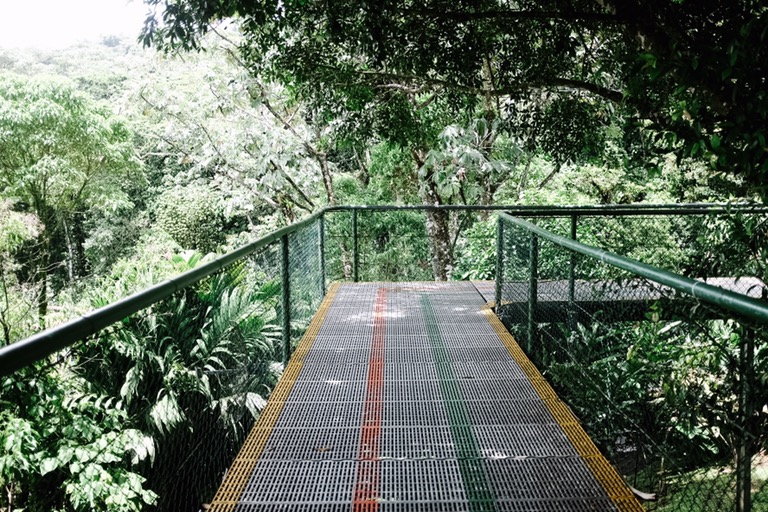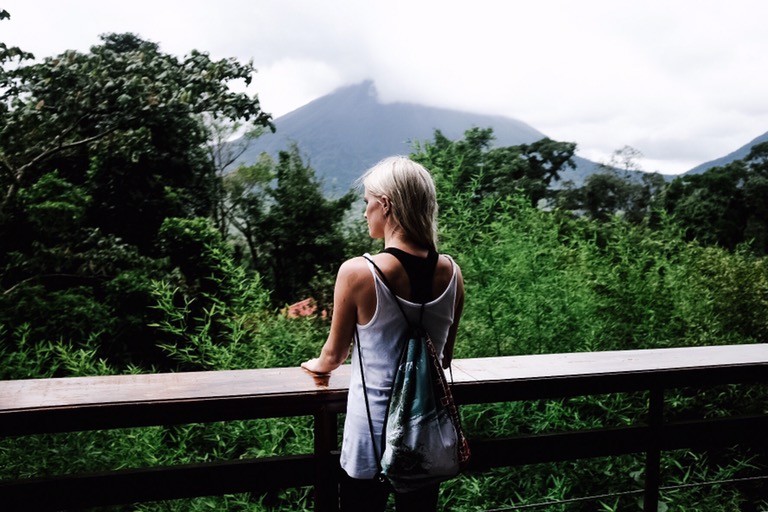 I knew that after I had done a day of physical activities, I'd want to be in a jacuzzi lol We stayed at the ChaChagua Rainforest hotel 30 minutes from La Fortuna (1 hour from Sky Adventures). This place was a perfect combination of camping and resort lol Not sure if I'd be able to pay to stay in a place without air conditioning again, but it was a beautiful place to stay!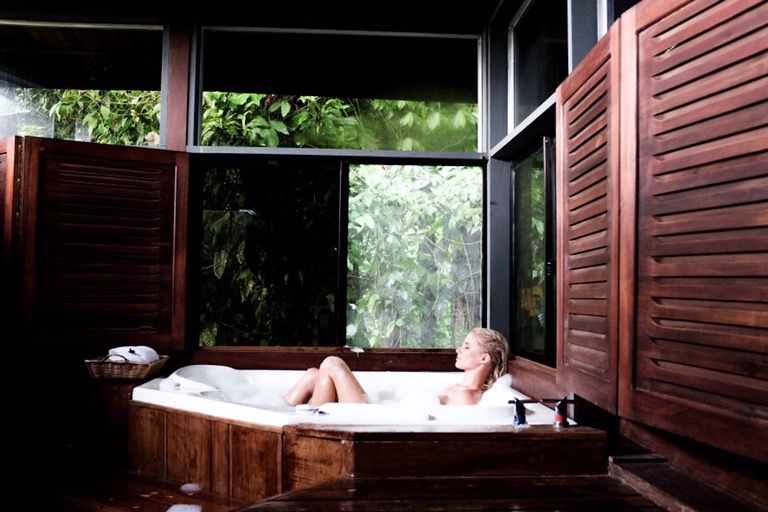 We had such a blast in Costa Rica! I wasn't sure how well it would go since we went in the off season..cheaper to travel and it only started raining in the late afternoons! I was also a little worried before, because of the Zika virus, poisonous critters and guys with machetes (yeah, I know lol), but with a lot of mosquito repellent and being observant of my surroundings, it was actually a nice place to visit! Everyone was so nice and friendly too and everything was quick and inexpensive to get!
Next adventure, Germany for Oktoberfest! 🙂