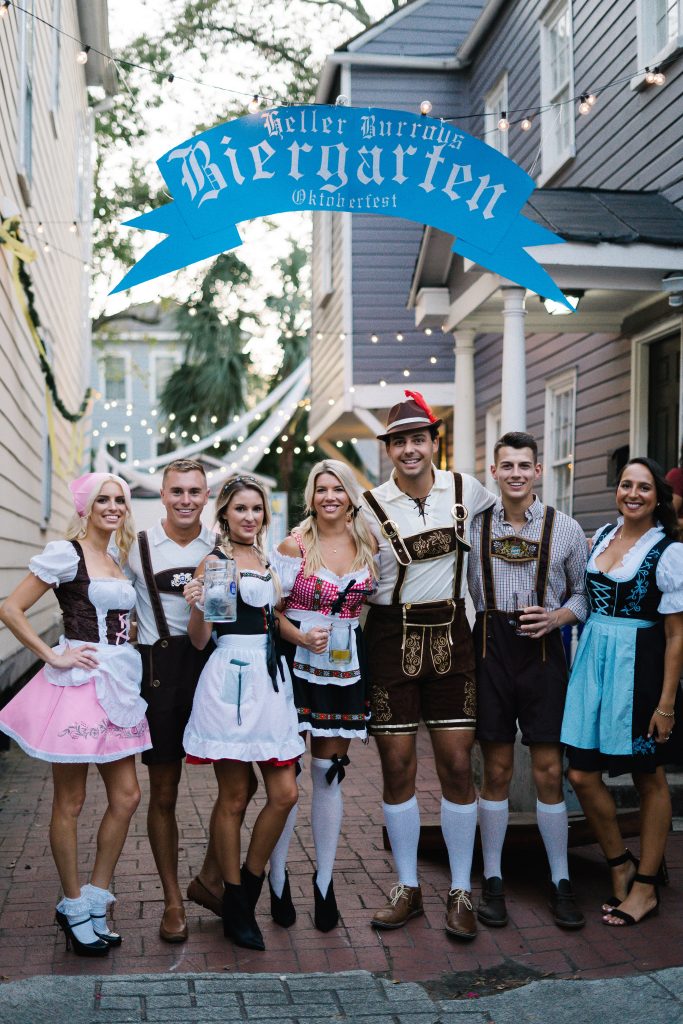 I know, I know..I get a little excited and go over-the-top hosting parties don't I? Well, I can't help it! It's too much fun not to 🙂
If you remember my post from last year, my friend Liz and I threw our boys a joint Tailgate themed birthday bash. What else do guys love as much as football?! BEER! And with the rest of the world's Oktoberfest festivities starting that same weekend-why not throw our own?!
This was definitely the most work we've ever put into a party. There were tables and chairs rented out from Eventworks here in Charleston, catering provided by Auntie Anne's, cafe string lights and ribbon ceilings staged up in the driveway and backyard, a DIY keg tap stand built for two signature brews, handmade Biergarten signs, a new frame built for the projector screen that was put on display for the football game..and lets not forget the homemade gingerbread cookies Liz and I made and decorated from SCRATCH! Just typing it all out makes me think we went a little overboard, but I wouldn't have changed anything!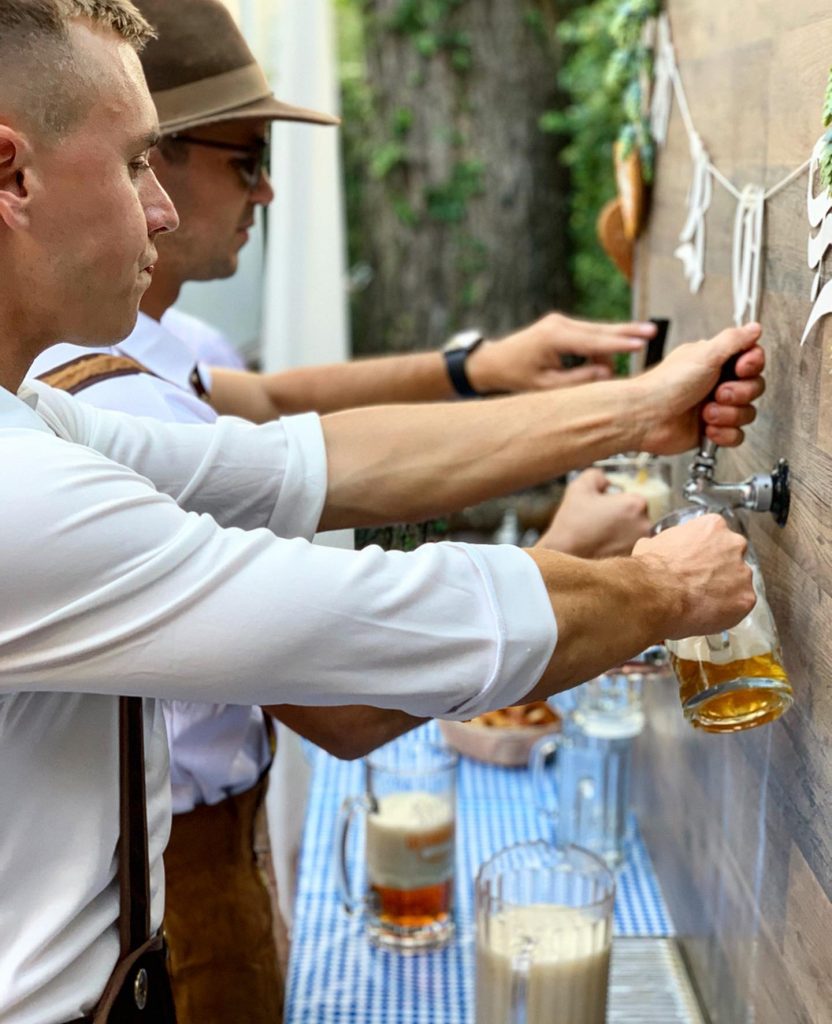 Josh and I celebrated his 30th birthday party in Munich, Germany for the real Oktoberfest and it was so magical (I know-I still need to share pictures from that trip!) We met people from all over the world (still friends we keep in touch with even now!) and everyone was so welcoming, friendly and wanting to have a good time. There were so many beautiful, elaborate tents filled with thousands of people! I hoped to bring a little bit of that experience home for those who haven't been able to experience it yet. And hey, how can you expect people to dress in lederhosen's and dirndls without the proper decor?!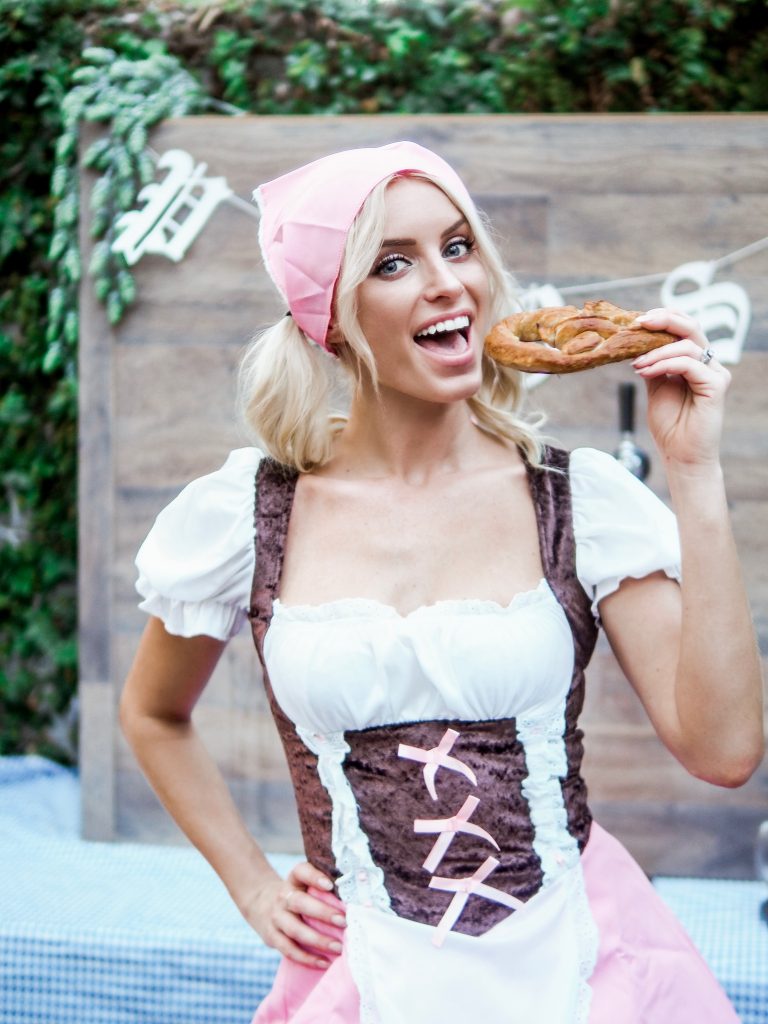 Wait! We had to have pretzels! With a little less than 2 weeks planning this event (always down to the last minute), I could only pray that Auntie Anne's would be able to offer a bulk order or something. I mean, who else comes to mind when you think of pretzels?! I think we all remember growing up snacking on them during our trips to the mall; the intoxicating aromas that overpowered all of the other merchants in the food court… Okay, sorry, back to the party 😉 Not only did they offer CATERING services (Are you serious!?), but they have their own Prost Packages in honor of Oktoberfest!!! (This is too good to be true!)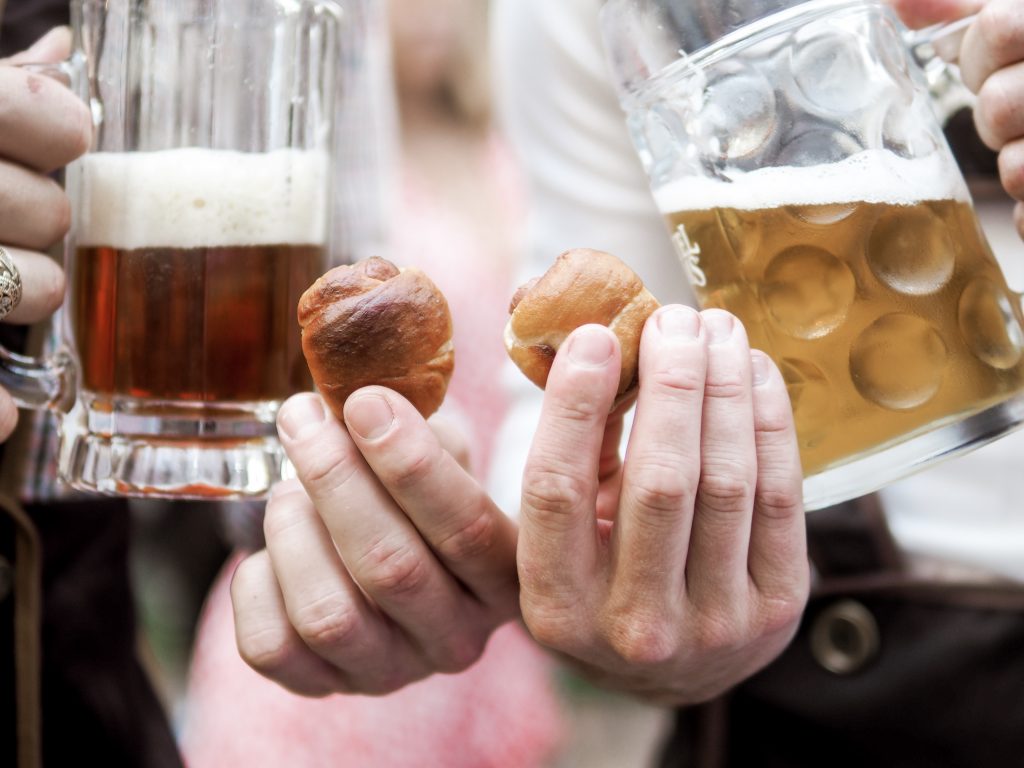 Each Prost Package includes one bucket of mini pretzel dogs, one bucket of cinnamon sugar pretzel nuggets and 12 assorted dips, serving about 25 people! We anticipated having around 40 guests so we ordered 2 packages and man did they go out fast! I think everyone was more excited about Auntie Anne's than the beer!!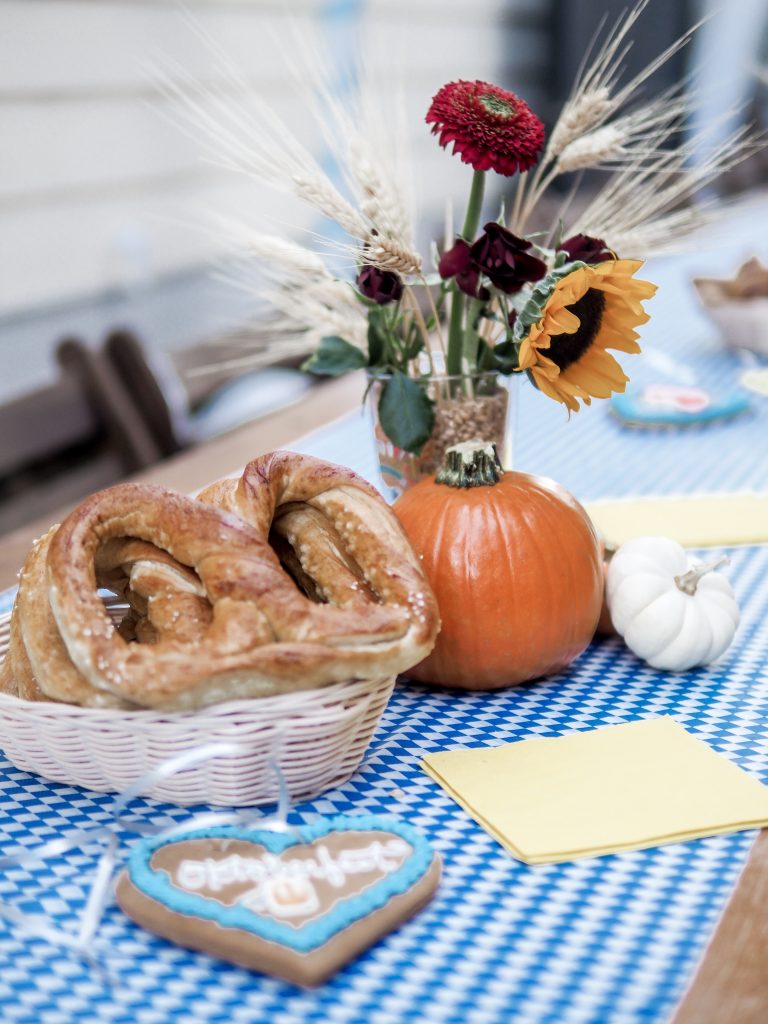 I had no idea they offered catering, let alone pretzel dogs (which were the most popular at the party!) and dipping sauces. This package would even be perfect for tailgating! But you'll have to get this soon-the Prost Package is only available until November 3rd! Also, if you place your order online through their EzCatering, you can get $15 off your order of $75 or more with promo code PROST at checkout!
Now how about our guests in there Bavarian inspired get-ups?! <3
What an Oktoberfest!! So thankful for everyone coming through at the last minute getting this party together-we couldn't have done it without you! (Especially Auntie Anne's!!)